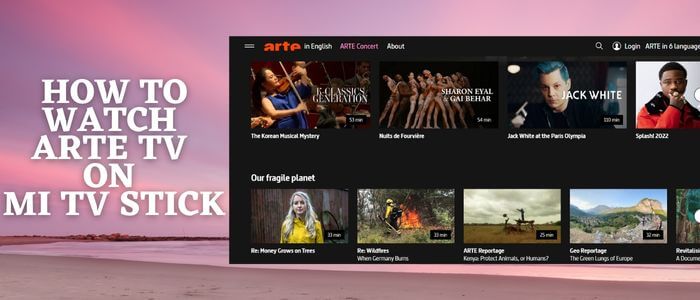 This is a step-by-step guide on how to install Arte TV on MI TV Stick and MI TV Box.
Arte-TV is one of the popular streaming devices in France and Germany. All channels on Arte TV are supported with subtitles and both languages.
Arte TV has 3 members The European Economic Interest Grouping Strasbourg, France, & Germany.
The content on Arte TV consists of more than 80% French and German and the rest is provided by a European Company. For the users, Arte TV streams popular shows in English, Polish, Italian, and Spanish subtitles. 
If Arte tv is accessed outside of France or Germany, it shows an error saying:
"This video cannot be viewed from your current location".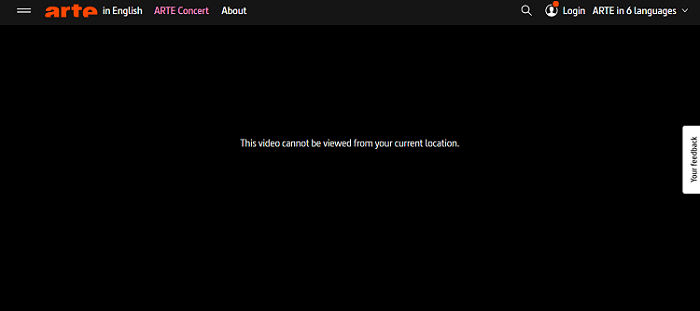 As Arte TV is only restricted to viewers in Germany and France. Therefore, it is strictly advised to use a VPN on your Mi TV Stick.
Our Recommended VPN – ExpressVPN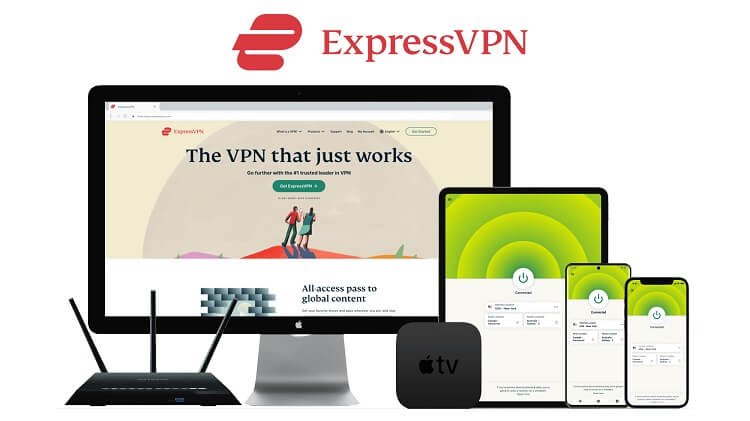 Warning: ExpressVPN is our main choice when it comes to unblocking geo-restricted content OR Streaming free content that is available on third-party APKs. It ensures that your online activities remain concealed from the Government and ISPs.
ExpressVPN offers 3 extra months for free along with a 30-day money-back guarantee. The VPN can work on five simultaneous devices with a single account.  
How to Watch Arte TV on MI TV Stick
To watch Arte TV for free you will need a web browser. One of the best browsers for this purpose is the Puffin TV Browser which will stream content from the official website of Arte TV.
Before you begin streaming make sure to install and use ExpressVPN and connect the German or France server to bypass the geo-restrictions and stream with Arte TV.
Here are the steps to follow:
Step 1: Go to your MI TV Home page and click on the Apps menu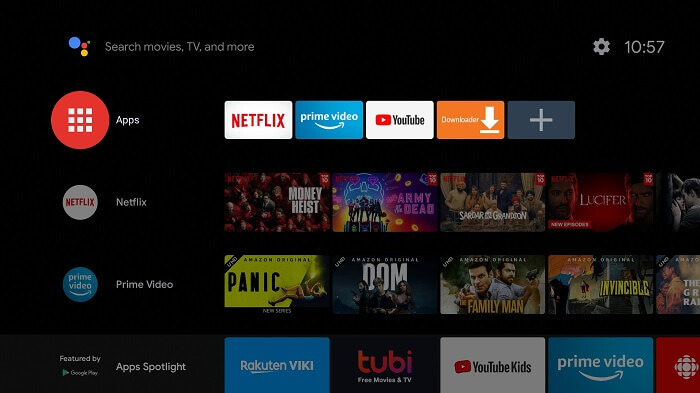 Step 2: Click on Get More Apps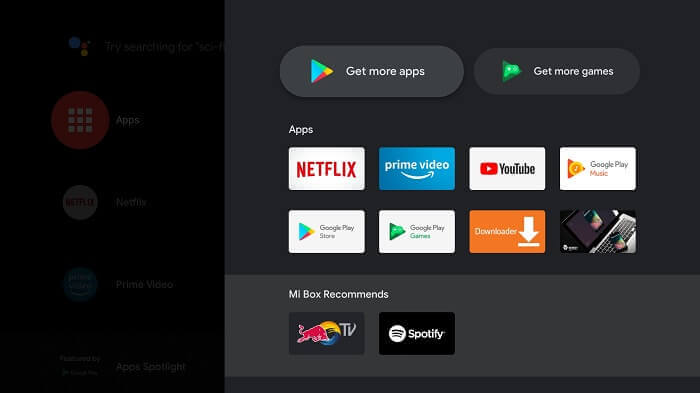 Step 3: Now press the Search Icon placed at the top menu bar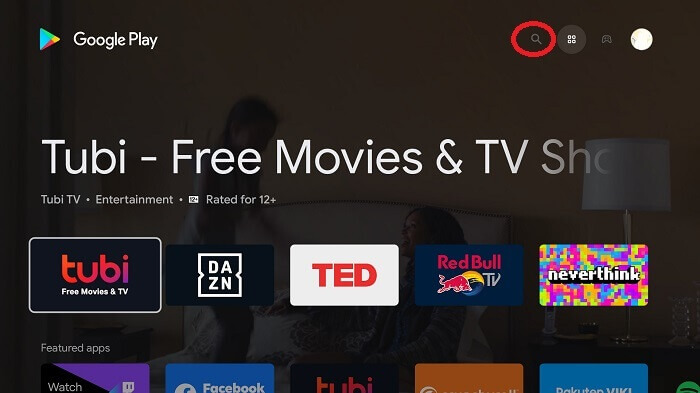 Step 4: In the search bar type Puffin TV Browser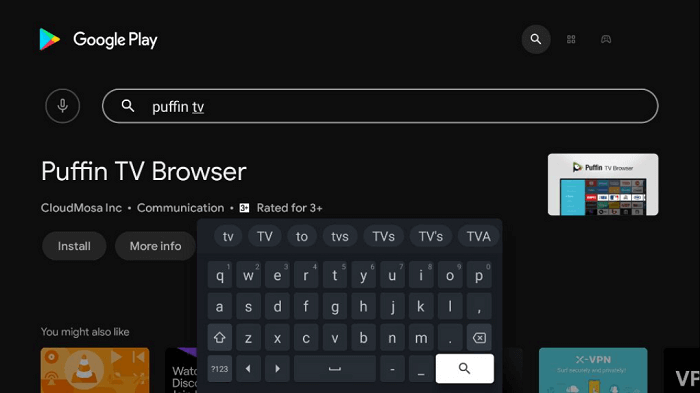 Step 5: Select the app and click Install for the browser to start installing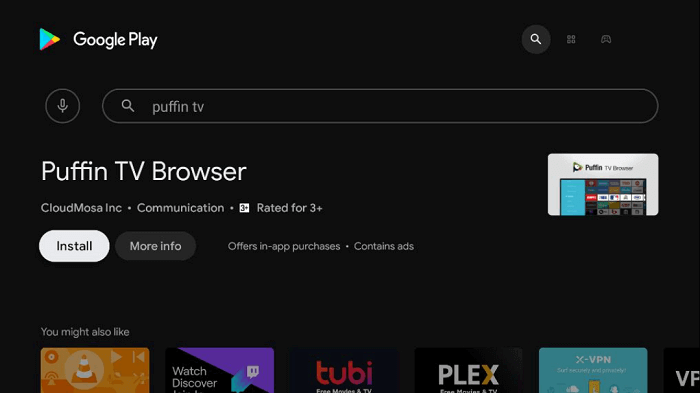 Step 6: Wait until the browser is installed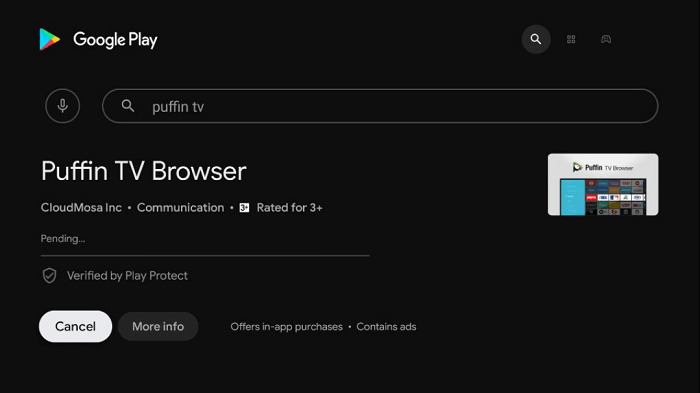 Step 7: Here the browser is installed on your MI TV device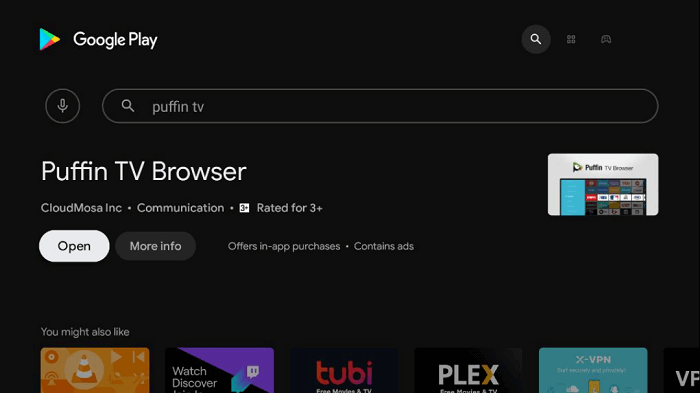 Step 8: Now Open the ExpressVPN app and connect to any of these Servers (Germany, France, & Europe) to bypass the geo-block on Arte TV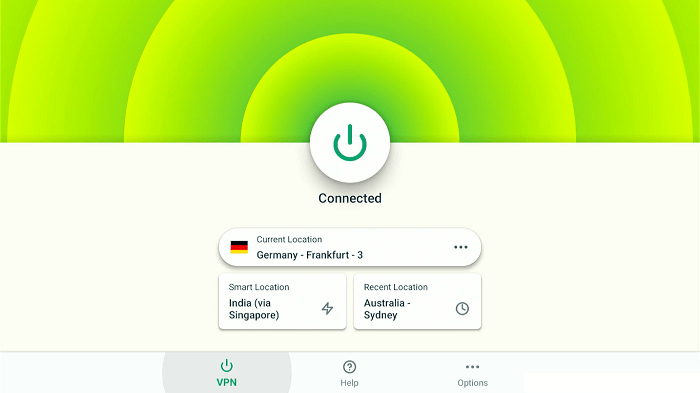 Step 9: Now open the browser and click on the URL bar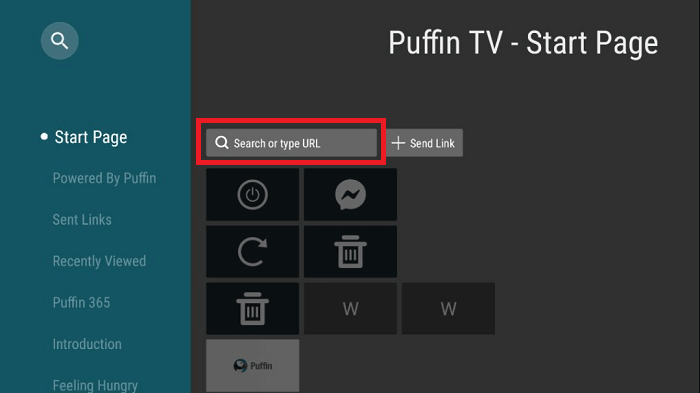 Step 10: In the URL section type www.arte.tv/en/ and click Go
Note: You must take into account that the referenced link is the URL of this particular app/website. MI TV Stick serves its users the content available.  It does not have an affiliation with the app / Website developers.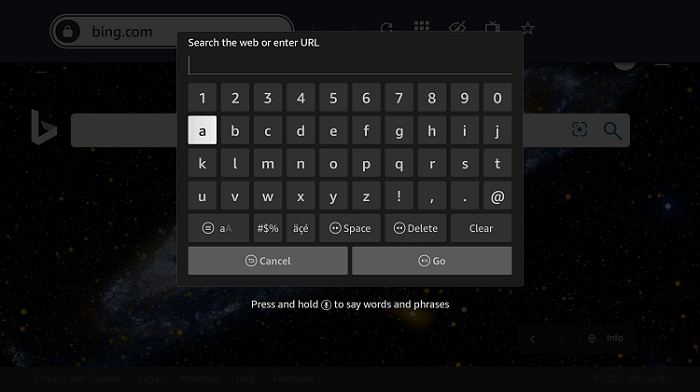 Step 11: The Official website of Arte will open, this is the interface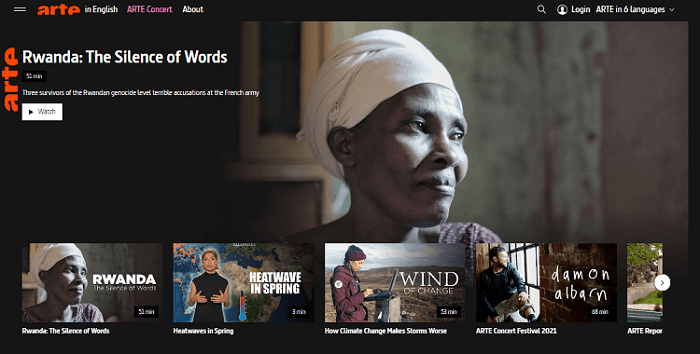 Step 12: Select any program and Play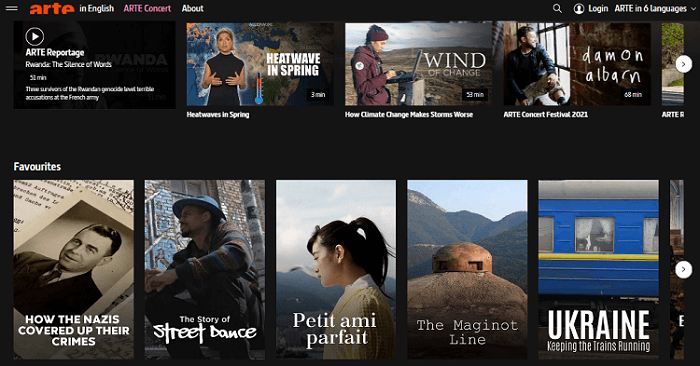 Step 13: Here is your selected program that you can stream live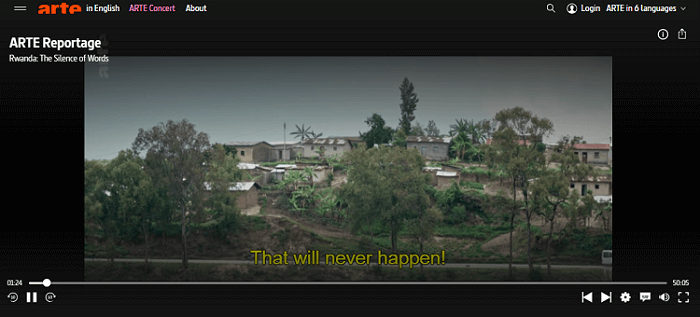 Explore Arte TV Features
Arte TV is a streaming service that offers a wide range of categories like documentaries, drama, music, films, News, History, Science, Culture, etc. 
The content on Arte TV is available in six different languages and Subtitles i.e. German, French, Spanish, Italian, Polish, and English. This feature makes Arte TV streaming easy for people around the globe. 
Arte TV is not only free, but these videos on demand offer a wide range of playlists and streaming of concerts. Moreover, the interface of Arte TV is quite simple encouraging easy navigation and understanding of features.
It provides a section of content for travel and adventure, a different section for medicine and health, and a section for gymnastics. This covers basic to a unique content genre that the user would wish to watch.
Popular Shows on Arte TV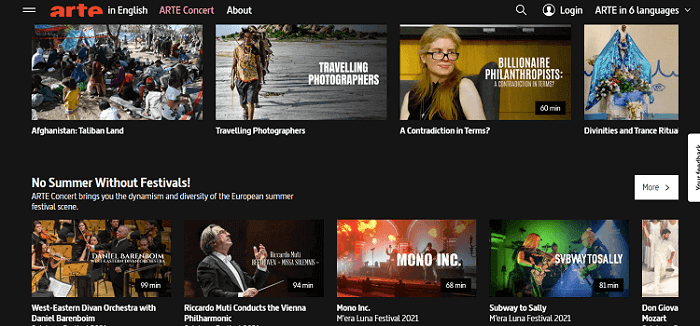 The distribution of sections lets the user discover what's trending on Arte TV. Here is a list of the popular streaming Shows on Arte TV that you can watch for free on your MI TV Devices.
Like Hate Die
Hellfest 2022
Geo Reportage
Africa, GMOs, and Bill Gates
How Chemical Giants Destroyed Our Ecosystem
Kosovo Youngsters
Soviet Heritage
Youth Violence
Concrete Feeling
Fracking Boom in Texas
Beauty in a Dark Place
The Art of Medieval Combat
The Lost Ones
Surviving Hiroshima and Nagasaki
Revitalizing the Earth
The Istanbul Underground
Crazy Borders
Muse
Canis Familiaris. A quest for meaning and a dog's life.
Raï is not dead. A documentary journey retracing the history of raï music.
Fail in Love (L'Amour a ses réseaux)
Lost in California.
Mobile Squad (Brigade Mobile)
Premières voix.
4 feet high.
Ride to Mount Elbrus
A very secret service
Mapping the World
In the Face of the Crime
The Odd Girl
Paradise Lost
Bad Banks
Muse
The Mystery of Trojan Horse
Alternatives to Arte TV
MI TV Devices offer many other streaming apps that provide plenty of Live TV channels and content from other regions of the world. Here are some alternatives that you can watch on MI TV Stick.
FAQs – Arte TV
Is it legal to watch ARTE TV?
Yes, streaming Arte TV online is completely legal and safe. Although the content on Arte tv does have copyright restrictions for viewers outside Europe, it can be accessed via VPN.  Our recommendation is the most reliable ExpressVPN. 
Can I watch ARTE in the USA?
Yes, with a reliable VPN, you can easily stream ARTE in the USA bypassing geo-restricted by changing your US IP address to a German/France one.
Is the ARTE channel free?
Yes, you can watch ARTE Channels and programming for free on their website and official App. However, the service is only available in France and Germany and cannot be accessed outside without a VPN.
Wrapping Up 
Arte TV is a streaming service that provides content from France, Germany, and Europe. It streams Documentaries, reportages, magazine shows, and concerts that you can watch for free using the official website. 
We have mentioned access to Arte TV's official website through a browser where you are not required to give up storage and go through any downloads or installation process. One of the famous browsers we have used is the Puffin TV Browser that you can install now.
You must note, that Arte TV is only accessible in France and Germany so if you do not belong to these countries then you are required to use ExpressVPN and connect your device to the servers to stream free content of Arte TV.