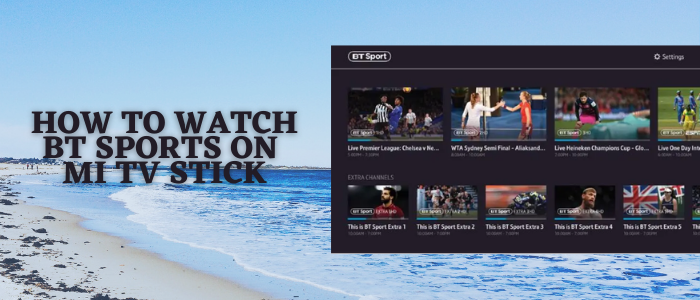 This article is a step-by-step guide on how to install BT Sports on MI TV Stick and MI TV Box.
BT Sports is one of the famous sports channels of the UK that includes sports like Baseball, Basketball, Cricket, Football, Wrestling, and many other sports.
BT Sports has the official broadcasting right of every season for the English Premier League and UEFA Champions League which makes it one of the biggest sports networks since 2013. In addition, it also broadcasts other live and on-demand football leagues like Bundesliga, Ligue 1, etc.
2 Ways to watch BT Sports on MI TV Stick
I have discussed two different methods to watch BT Sports on MI TV Stick. These methods are:
Since the BT Sports is a UK-based service so it is strictly advised to use a VPN on your MI TV Stick
Our Recommended VPN – ExpressVPN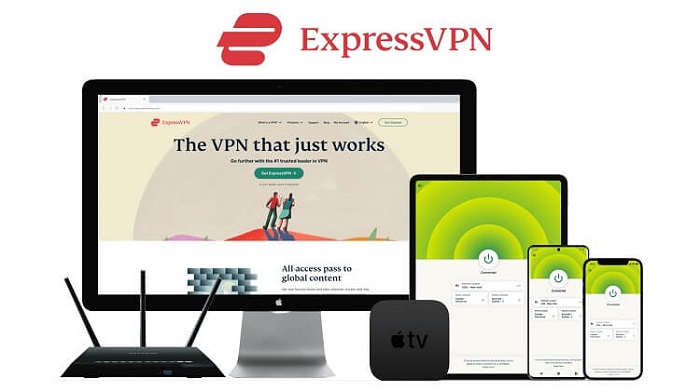 ExpressVPN is our top choice when it comes to watching free Live Sports matches with BT Sports as it completely hides your IP address and keeps your online identity private while watching free content.
Get ExpressVPN today and enjoy 3 extra months free. It also offers a 30-day money-back guarantee policy that allows you to access all features risk-free for 30 days
Watch BT Sports using Puffin TV Browser
To Watch the BT Sports channel on the internet browser, we will be using the puffin TV Browser. You can use any other that ever suits you best.
As the service is UK-based it is essential to install and use ExpressVPN on MI TV Stick and connect UK server to access the content.
Now follow the steps given below.
Step 1: Select Apps from your MI TV Home screen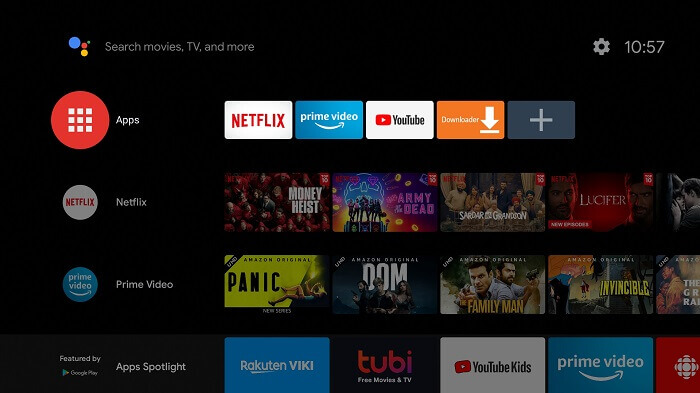 Step 2: Select Get More Apps from the given options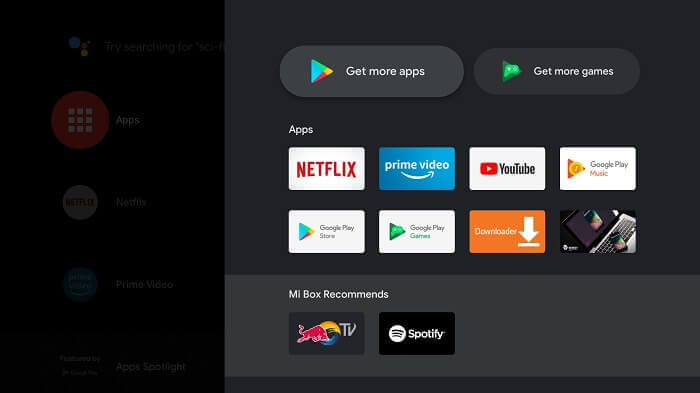 Step 3: At the top menu bar you will now select the search tool to access the search bar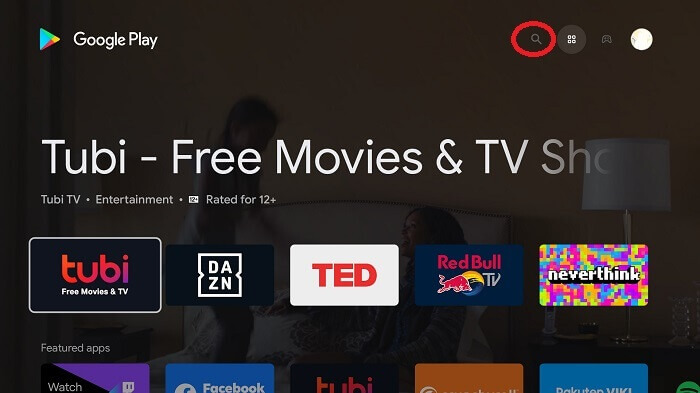 Step 4: Type Puffin TV-Browser and select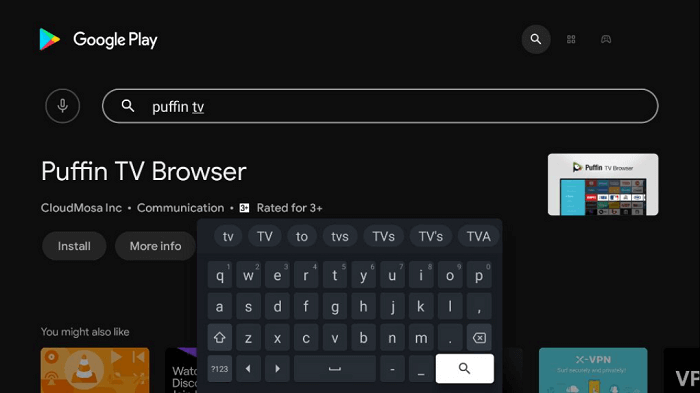 Step 5: Click Install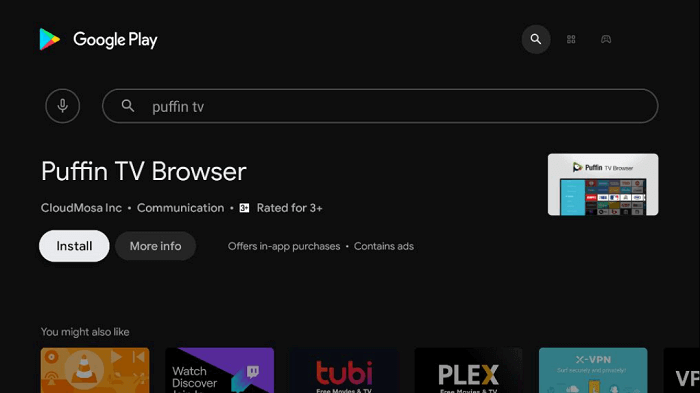 Step 6: Please wait for the browser to download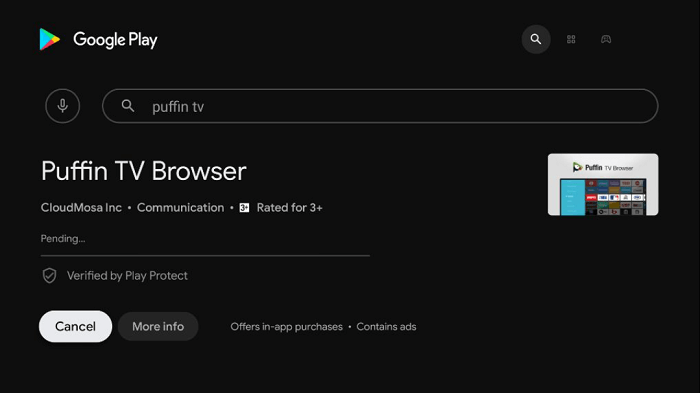 Step 7: Click Open once downloaded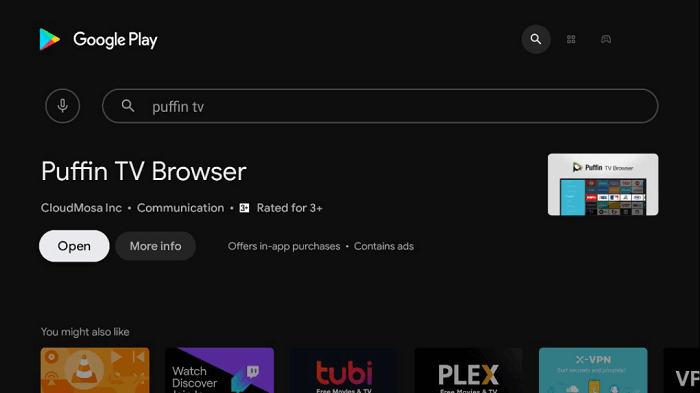 Step 8: Open the puffin TV browser and click on the search bar to type the URL stitichsports.com/tv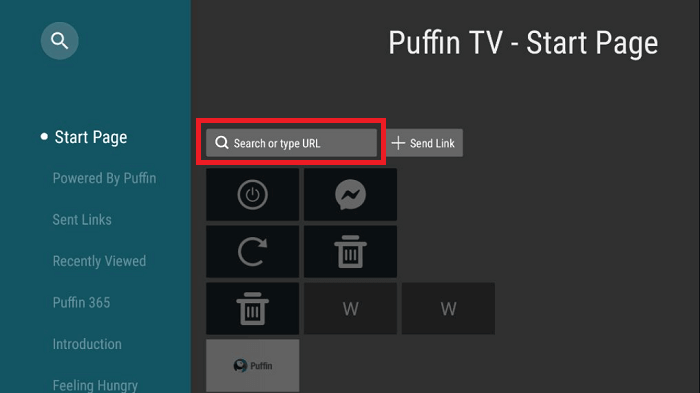 Step 9: This is the interface of the SSLive TV (Stitich Sports)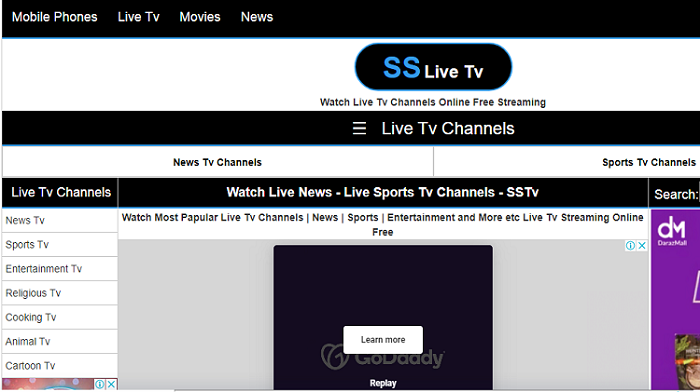 Step 10: Choose the Sports TV Channels tab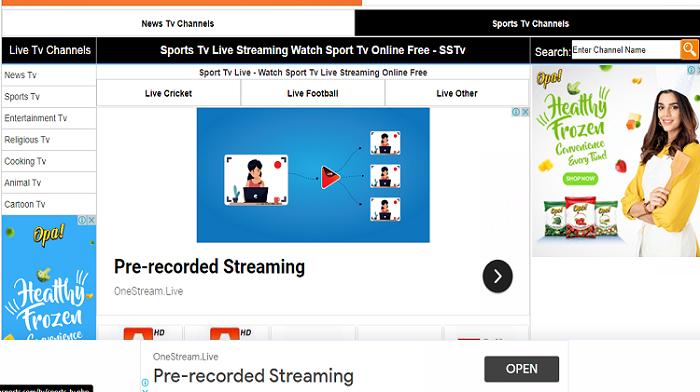 Step 11: Scroll down and select the BT Sports channels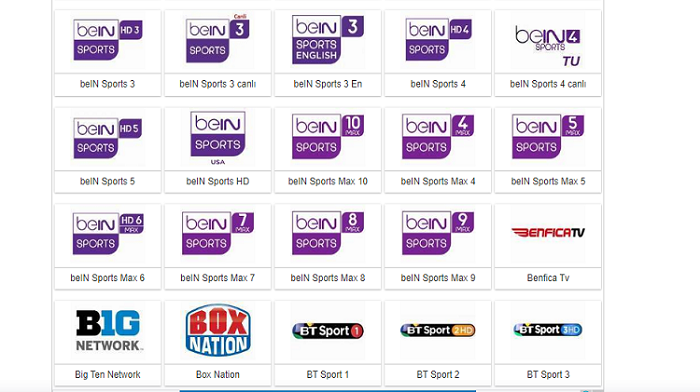 Step 12: Click Watch Now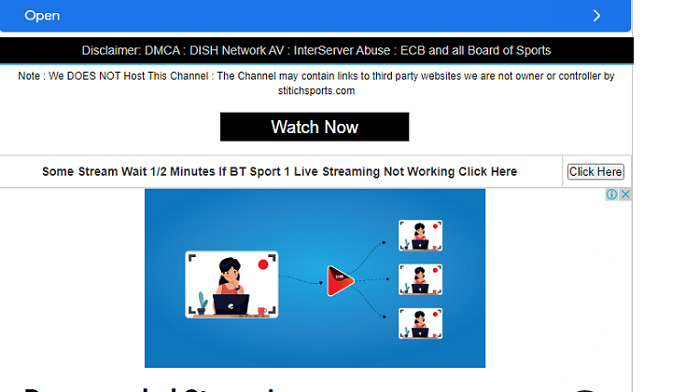 Step 13: Here it is streaming Live…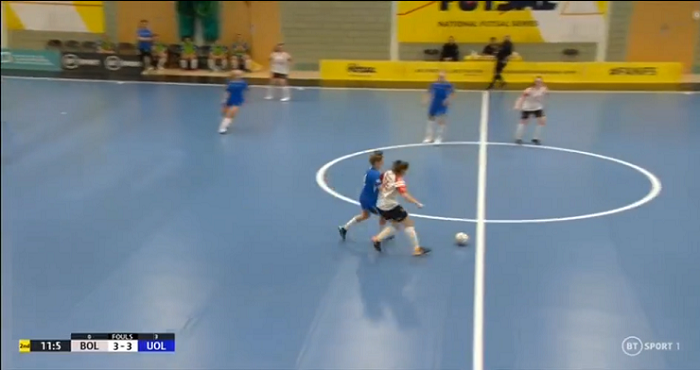 Watch BT Sports using Aptoide Store
BT Sport is not available on the Google Play Store. Therefore, we will use the third-party app store that is Aptoide Store. It has many apps that are not available on any official store.
It is itself a third-party app, you have to install the Aptiode app on Mi TV Stick with the help of the Downloader App.
Follow the steps given below to install BT Sports via Aptoide Store.
Step 1: Open the Aptoide Store App on your MI TV Device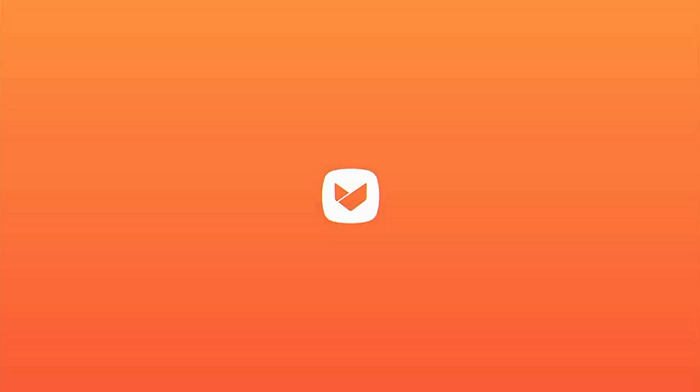 Step 2: In the search bar type bt sports app and click Next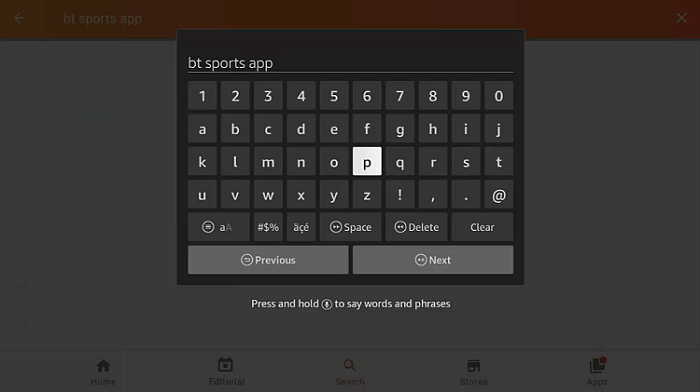 Step 3: Select the app from the suggestions given below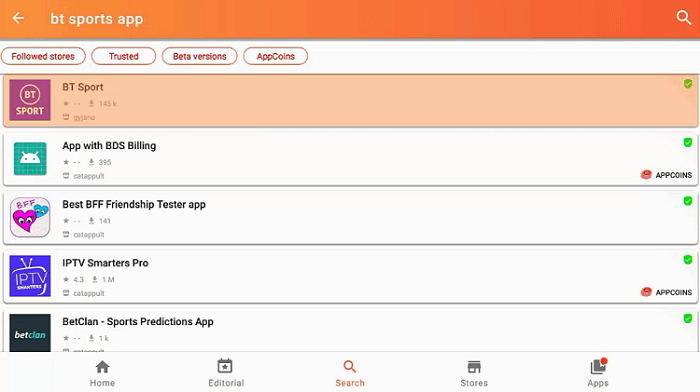 Step 4: Click Install now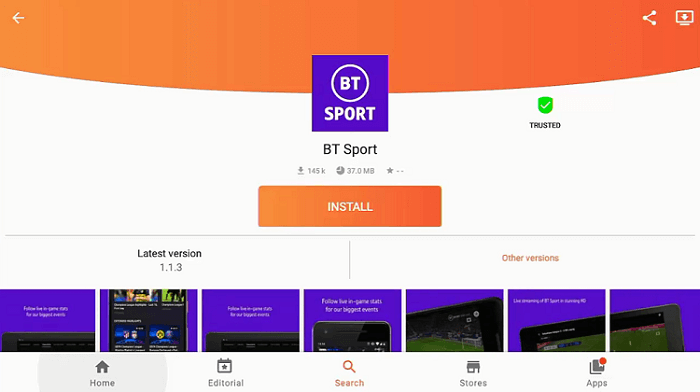 Step 5: Wait for BT Sports to download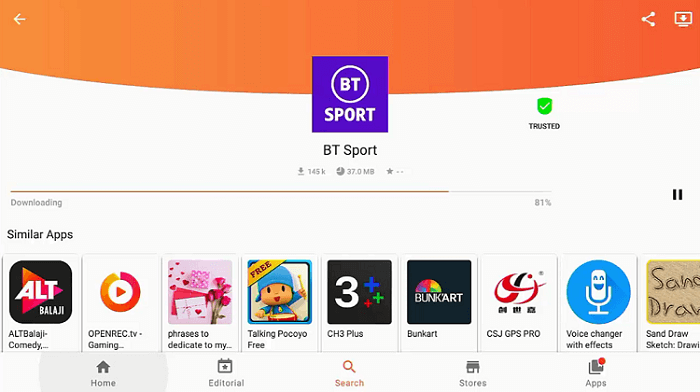 Step 6: After installation completes click Install again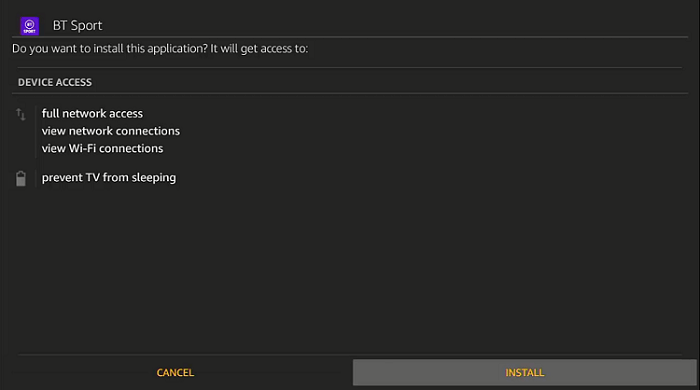 Step 7: Wait till the APK installs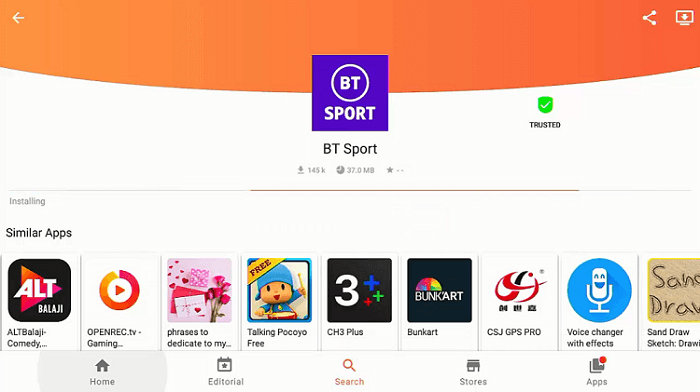 Step 8: Click Open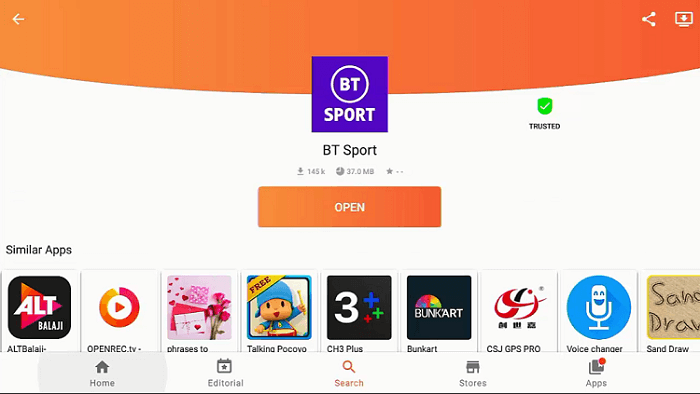 Step 9: Open the app now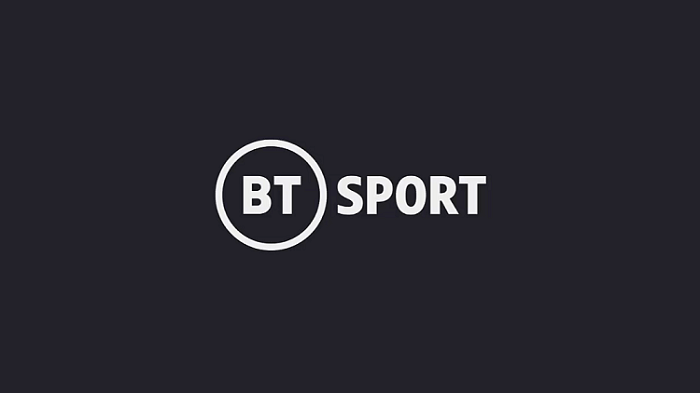 Step 10: The interface of BT Sports will look like this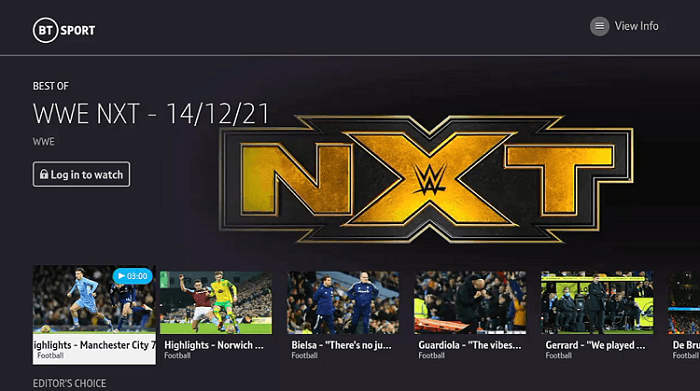 Step 11: Stream freely now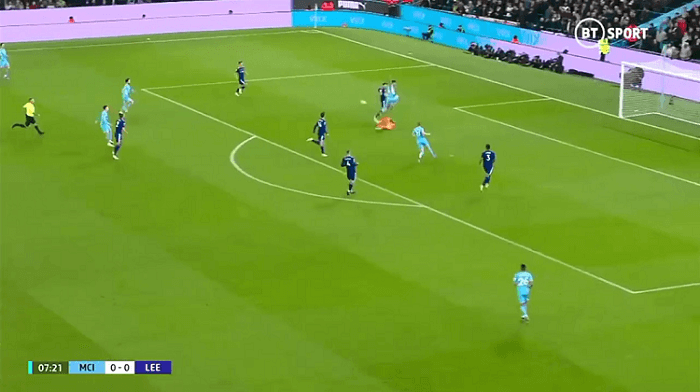 BT Sports Features
BT Sports allows you to access live as well as past sports events with highlights of the show and a high definition quality providing a 360-degree highlight coverage.
With BT Sports you can watch all sports events and shows in one place and it comes with multi-cam replays. You can watch multiple channels under BT Sports like BT Sports 1, BT Sports 2, BT Sports 3, BT Sports ESP, and BT Sports Extra. 
It mainly focuses on the major sports events of UFC, Football, Boxing, Rugby, and more. BT Sports keep you updated all the time with the assistance of notifications.  With BT Sports you can watch other shows instead of sports like Discovery, Comedy Central, AMC, Disney, Cartoon Network, and more with a user-friendly interface.
BT Sports Alternatives
BT Sports covers all you want to watch and know about sports with Live and recorded shows however if you want to search for more Live Sports Apps you can pick any from the following alternatives.
Conclusion
BT Sports is a great platform to watch Live and On-demand sports from the comfort of your home and most of all it does not cost any penny to you.
It will keep you updated and notified of events that are about to occur as if you are a part of it. Moreover, its library is not only limited to sports events but it reaches out for entertainment for people of all ages.
However, You must have to use ExpressVPN as the service is UK-based, so you have to connect to the UK server to access the content of BT Sports.