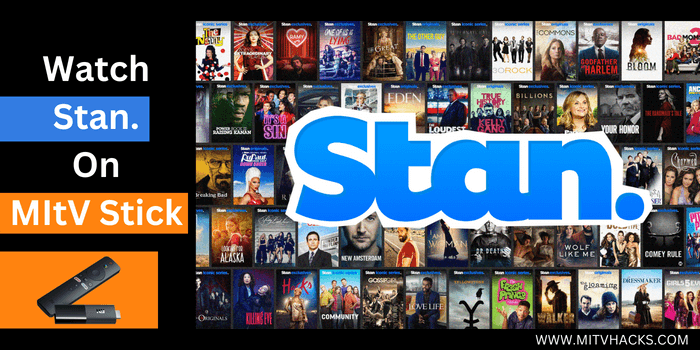 This step-by-step guide will show you how to watch Stan on Mi TV Stick or Mi TV Box.
Stan is a popular streaming service in Australia that offers a wide variety of content, including movies, TV Shows, Sports, and kids' shows from both local and foreign industries. 
The service launched in 2015, and until now, it has been able to entertain its users by providing some great content.
Stan offers unlimited hours of TV shows like Dangerous Liaisons, Wolf Like Me, Vampire Academy, and Yellowstone. 
The service also has a section dedicated to kids that offers plenty of animated movies and kid-friendly programs. The streaming service is not free to use and has three subscription plans starting from $10/mo with a 30-day free trial.
However, Stan is only limited to Australia, so people who try to access Stan from any other country will face a geo-restriction error that says:
"Sorry, we couldn't log you In. Stan is not available in your region"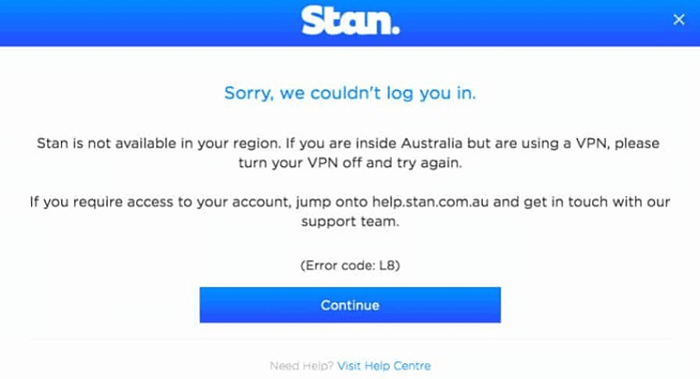 Therefore, it is recommended you use a VPN connection on your Mi TV Stick device and connect to Australian Server to access the content.
Our Recommended VPN – ExpressVPN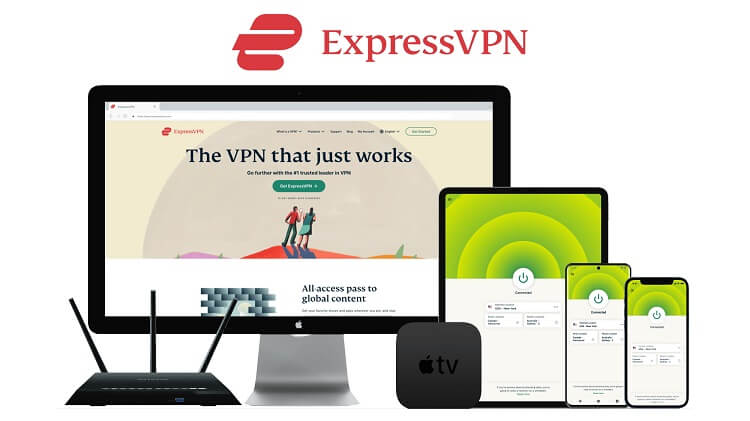 Warning: ExpressVPN is our main choice when it comes to unblocking geo-restricted content OR Streaming free content that is available on third-party APKs. It ensures that your online activities remain concealed from the Government and ISPs.
ExpressVPN offers 3 extra months for free along with a 30-day money-back guarantee. The VPN can work on five simultaneous devices with a single account.  
How To Watch Stan On Mi TV Stick Using Puffin TV Browser
Here we have used the browser method to watch Stan on a Mi TV Stick device. The Puffin TV browser works perfectly for this purpose as it allows the users to access the official Stan website and then subscribe to any of its plans. 
You can also choose any other browser if you want. However, don't forget to use ExpressVPN on your Mi TV Stick, as Stan is only available in Australia. 
Follow the steps below:
Step 1: From the homepage of your Mi Stick device, click open the Apps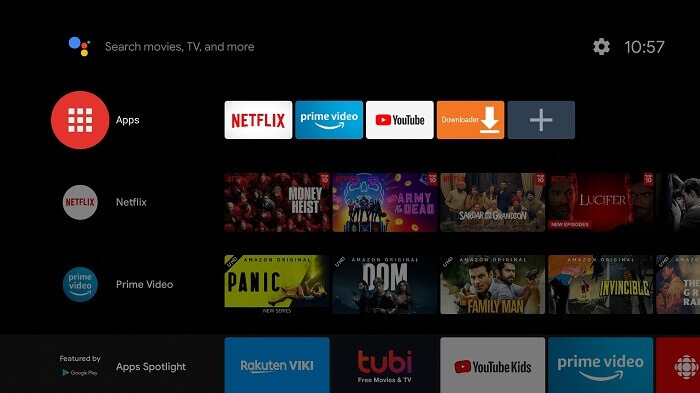 Step 2: Select Get More Apps option now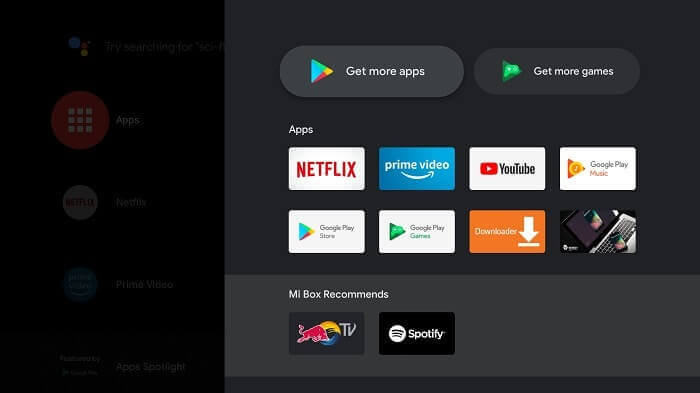 Step 3: Press the Search icon above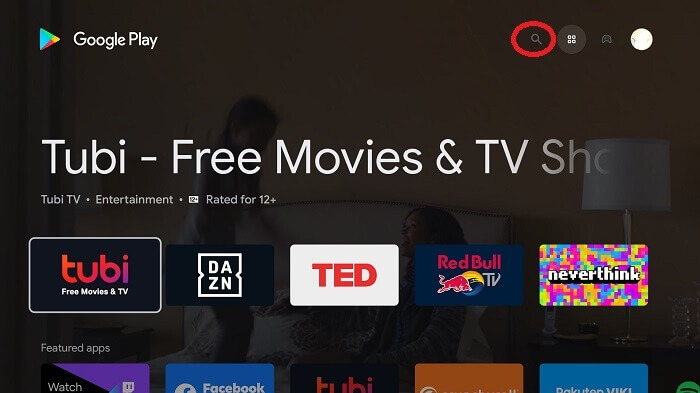 Step 4: Type Puffin TV Browser in the URL bar and then click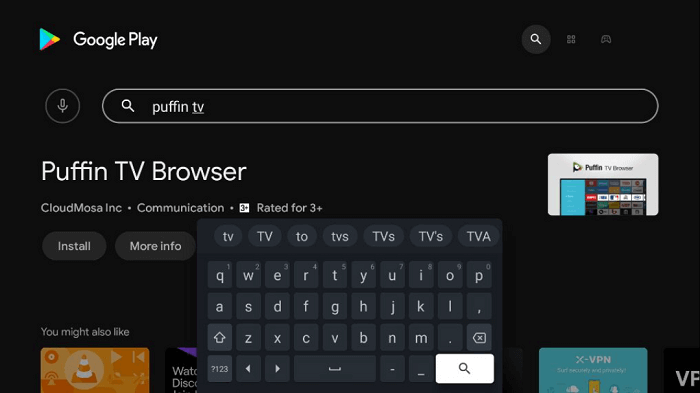 Step 5: Now press the Install tab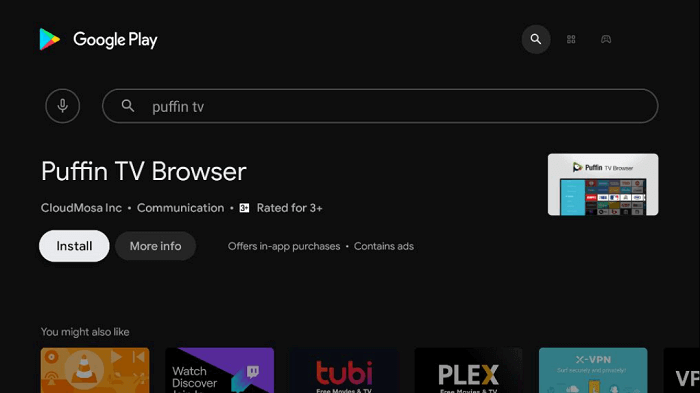 Step 6: Wait for a while as the app is installing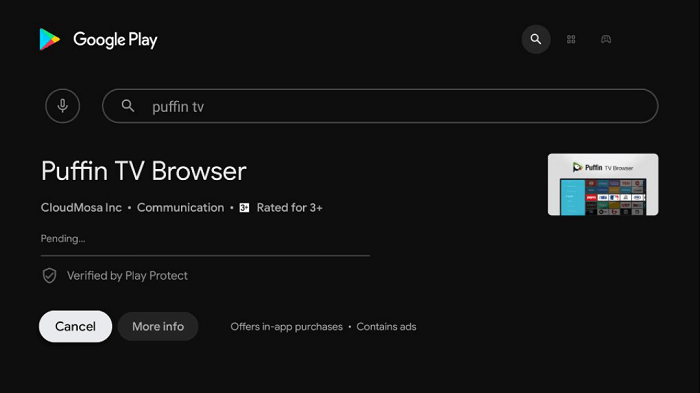 Step 7: Press Open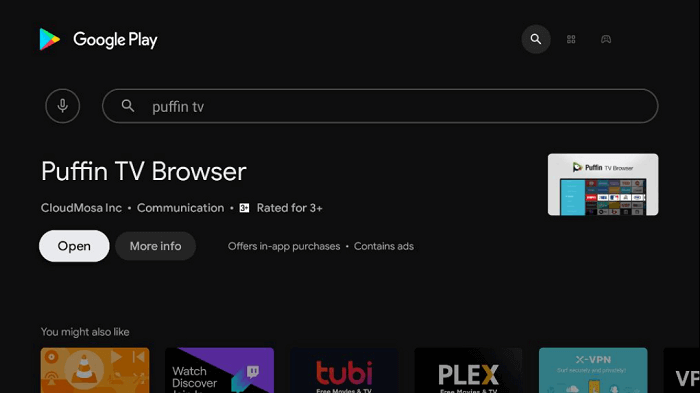 Step 8:  Now Open ExpressVPN app and connect to Australian Server to access the Stan Official website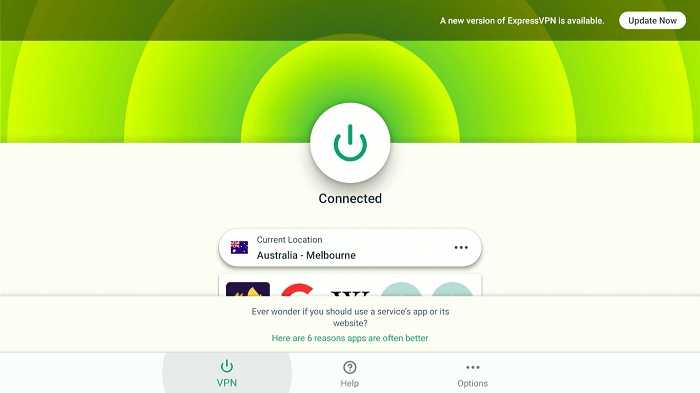 Step 9: The interface of the Puffin TV Browser will open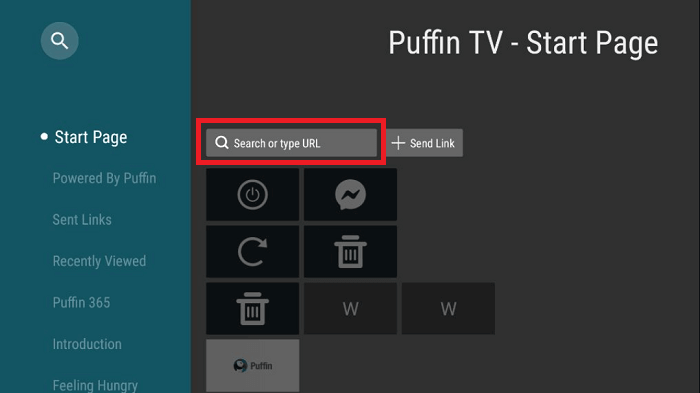 Step 10: Enter https://www.stan.com.au in the Search bar and ensure that the URL is precise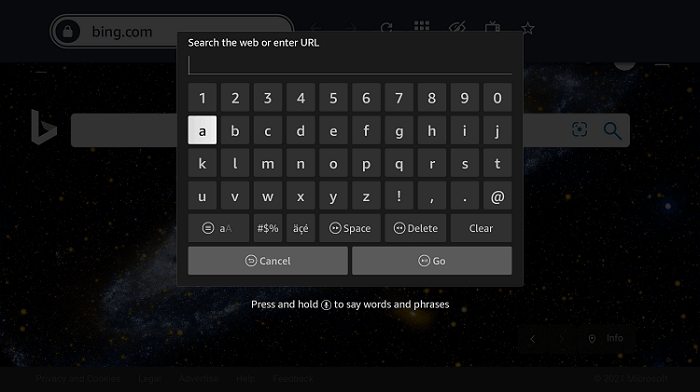 Step 11: Now launch Stan's website. You can start a 30-day free trial by pressing the Start your free trial option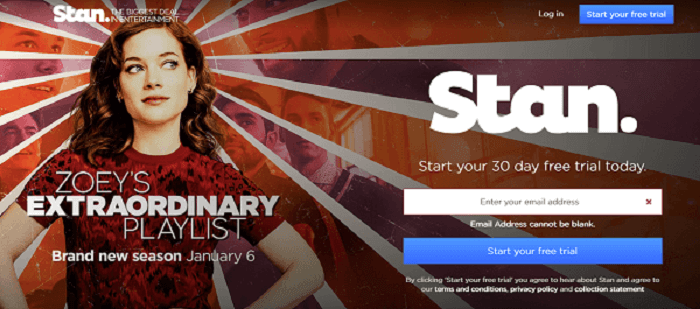 Step 12: Select a plan that you want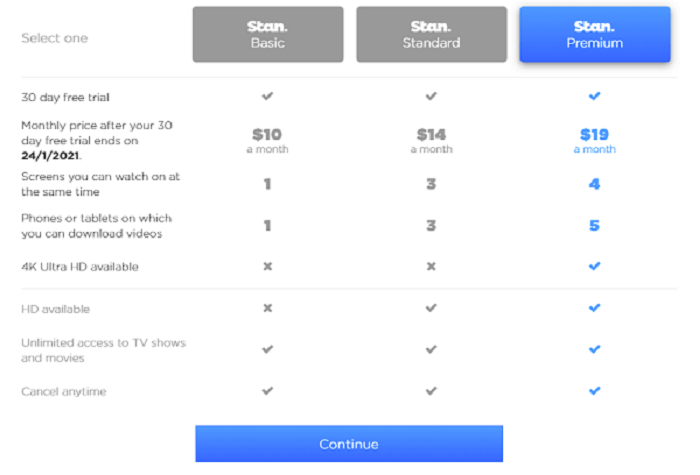 Step 13: Now put your Details and  Payment Information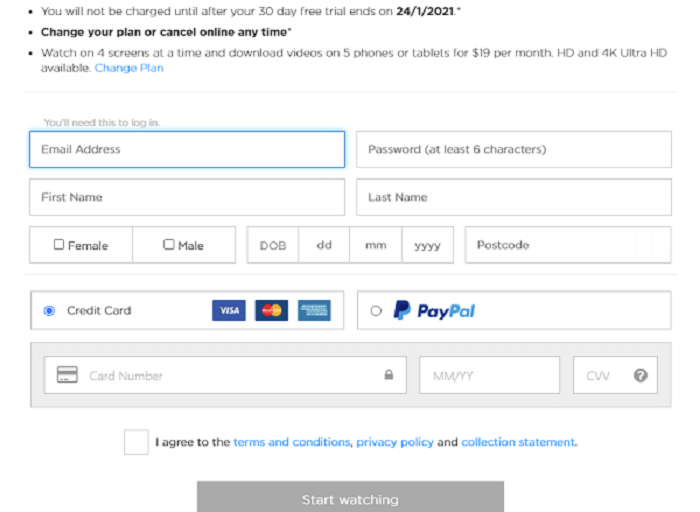 Step 14: Choose your favorite show and start streaming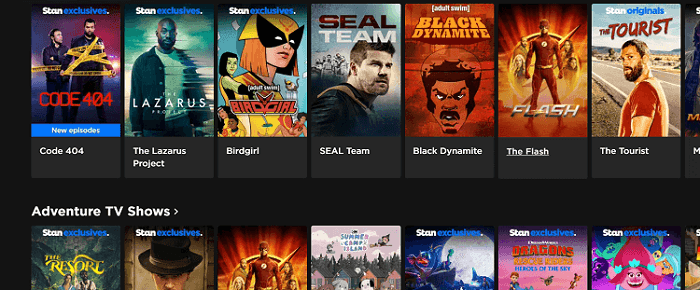 Step 15: Stan is now streaming for you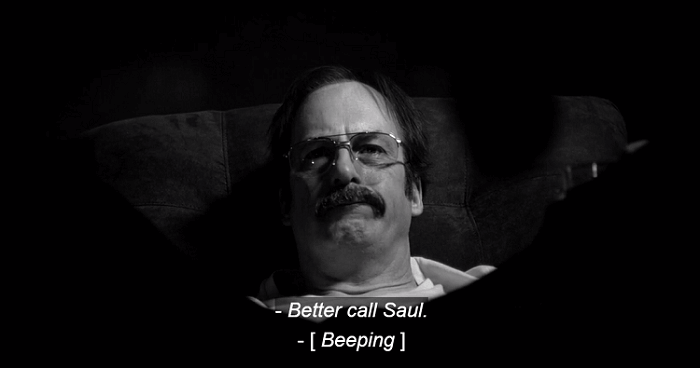 Stan Subscription Plans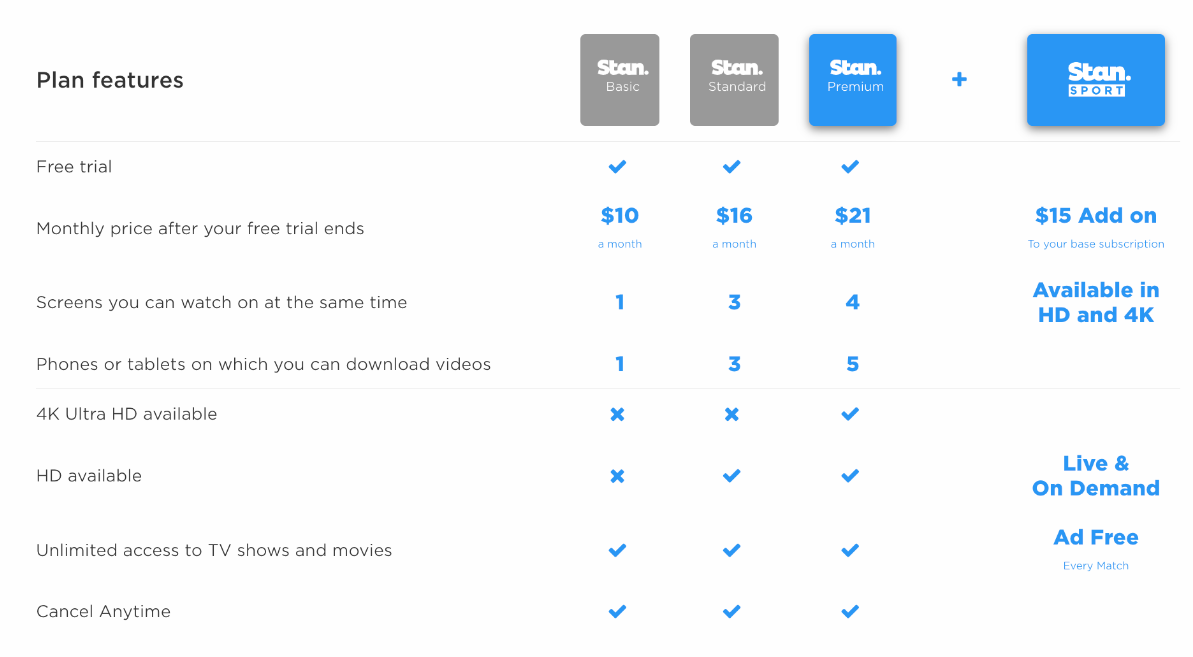 Stan has a 30-day free trial offer for its new users so that they can check whether the service is worthwhile or not. Let's now discuss the three subscription packages, Stan:
Stan Basic Plan

 – Enjoy 

SD quality 

video streaming at 

$10/month

. The package will support only one device at a time.

Stan Standard Plan

 – You can stream 

HD 

video streaming at 

$16/ month

. The package will support three devices with a single connection.

Stan Premium Plan

 – The premium plan will cost you 

$21/month

, and the content is available in 

Ultra HD quality (4K UHD).

 It can also support four devices at the same time.
More About Stan 
Stan has become a famous Australian streaming platform that users can easily stream on their Mi TV Stick device. Its subscription plan has now included Stan Sports, through which you can follow some top sports like the UEFA Champions League and many others.
Over the years, Stan has produced some fantastic original series for its viewers, including the classic Better Call Saul and the latest Black Snow, Poker Face, and Christmas Ransom.
Stan is one of the best options for streaming Australian programs and some of the most famous US entertainment shows. Users can also test the service by using the 30-day free trial offer of the service.
So, if you have decided to stream Stan on your device, you can choose any of its three subscription plans. Stan has a vast library with 3114 titles, including movies, kids' content, TV shows, and much more.
The website is easy to operate and shows detailed categories of content in which you can easily find out what's trending on Stan.
The children's content is available with full parental support and allows its users to apply restrictions so that kids can watch their favorite shows under an adult's supervision.
Though Stan does not sponsor its original series, it is still being watched and enjoyed worldwide. Another great thing about the app is that it lets users download content offline.
Popular On Stan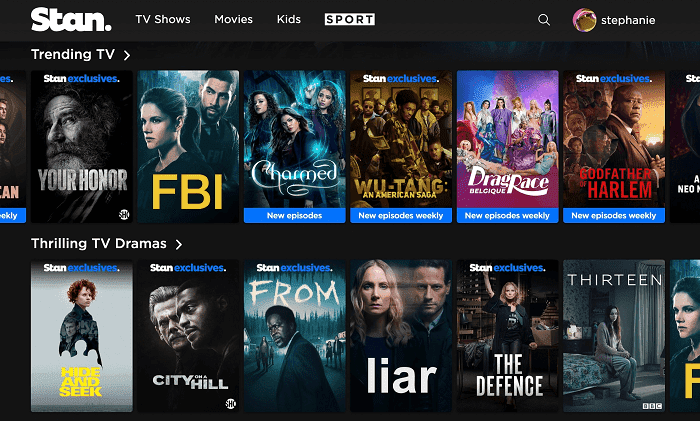 Stan offers a variety of TV shows, movies, sports, and some exciting kids' content. Let's dig deeper and find out what's trending on Stan.
Movies On Stan 
Below are some of the most searched movies on Stan. You can also search for your favorite one from the list.
No Time to Die
Godzilla: King of the Monster
Alice Darling
The Hitman's Wife's Bodyguard
John Wick series
Shazam
Prey for the Devil

Chaos Walking 

Step Brothers 

Infidel 

The Wolf of Snow Hollow 

Whitney 

Paul Blart: Mall Cop 

District 9 

Lady Macbeth 

Dumb Criminals 

The Bodyguard 

Argo 

Life 

Christmas Ransom 

McQueen

Gretel & Hansel 

Baywatch 

The Angry Birds Movie 

Poker Face 

The Imposter 

Captain Phillips 

The Notebook 

Inferno 

Final Destination 
Best TV Shows On Stan
Here's what viewers are demanding in TV shows this year:
FROM
Black Snow
Totally Completely Fine
The Great
Ten Pound Poms
A Mission Little Things
Happy Vally

Yellowstone 

Bump 

Gangs of London

Lucky Hank
The Capture

Dangerous Liaisons 

The L word: Generation Q 

I hate Suzie 

Sins Of the City 

Doctor Who 

Pitch Perfect: Bumper In Berlin 

Ghosts

Call the Midwife 

The Reunion 

After the Verdict 

First Wives Club 

Top Gear 

Home Economics 

All American 

Drag Race 

Sort Of 

Amsterdam Undercover

The Pact
Sports
You can also follow various sports as an add-on by getting a Stan membership. It will provide you access to Live Games and some of the best Sports shows. These sports are:
UEFA Champions League

UEFA Super Cup

UEFA Europa League 

UEFA Conference League

Australian Superbike 
Championship
Australian Open Tennis

Wimbledon Championships

The Laver Cup

World Rally Championship

The Rugby Championship

Premiership Rugby

Professional Fighters League 

French Open Tennis Tournament 

Formula E 
Alternatives Of Stan 
Stan is a complete entertainment hub offering its users plenty of amazing content. However, if you want to try any other streaming platform to watch Australian content, you can try these similar apps below.
FAQs – Stan
Is it free to use Stan?
Stan is a premium service and offers three subscription packages that you can choose from. You can only enjoy free Stan content using the thirty days free trial from streaming your movies and TV shows.
How can I stream Stan on Mi TV Stick from outside Australia? 
Though Stan is only available in Australia, you can access all of its content even if you reside outside the country simply by using a reliable VPN connection like ExpressVPN on Mi TV Stick. The VPN will connect you to an Australian server to remove restrictions.
Is there any website available for Stan?
Yes, Stan has an official website https://www.stan.com.au which enables users to access the content using an Australian server.
Is Netflix better than Stan?
Stan is an excellent option for those who love watching movies and re-watching hit TV shows at a reasonable price. However, If you're into watching unlimited and entertaining originals at a relatively higher price, you must opt for Netflix.
Conclusion
If you love Australian content, you have come to the right place. This guide contains all the requisite information about how you can watch Stan on your Mi TV Stick device. 
Stan is a premium Australian streaming service that has three different subscriptions. You can select plans to stream movies, TV shows, kids' shows, sports content, and much more. 
However, the service is only accessible to Australia, so use ExpressVPN to bypass all geo-restrictions to enable you to watch Stan from around the world.