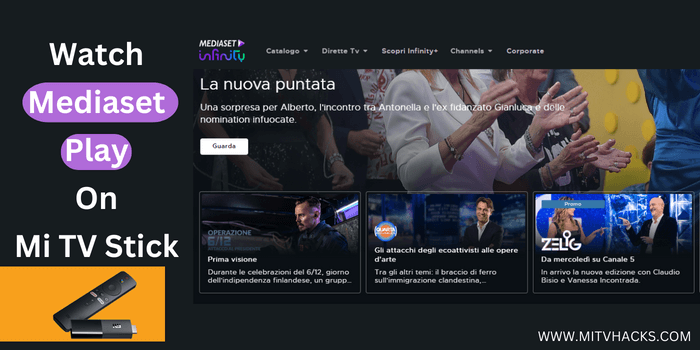 This step-by-step guide will show you how to watch Mediaset Play on Mi TV Stick or Mi TV Box.
Mediaset Infinity (previously known as Mediaset Play) is an Italian video streaming app that provides live and on-demand content free of cost. 
With Mediaset Infinity, you can watch exclusive content, including some famous movies, sports, news, TV shows, and much more, with a single click.
From "Game of Thrones" to "The Hobbit" the app has some of the top international series for its users.
The app is supported by plenty of devices, including Mi TV Stick, Android, iOS, and Smart TVs that have MHP or HbbTV technology.
However, since the Mediaset Play app is only restricted to Italy, you won't be able to reach it from any other place. If you try to access it you will face an error that says:
"For you who live abroad with an Italian heart
The International Channel of Mediaset is visible only outside the Italian Territory"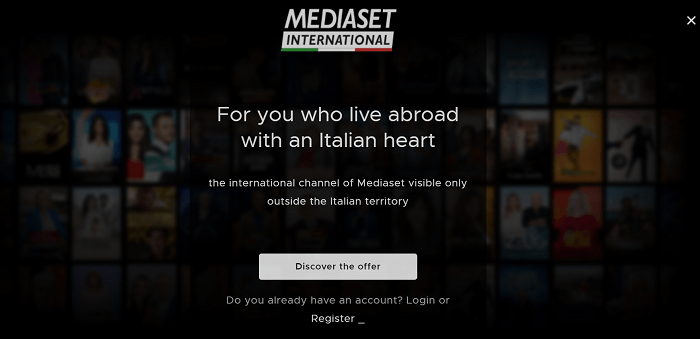 It means you will see different content if you are outside Italy on the international channel of Mediaset.
2 Methods To Watch Mediaset Infinity On Mi TV Stick
Below are the two methods that will help you to watch Mediaset Infinity on Mi TV Stick.
Mediaset Infinity is only available in Italy. Therefore, it is recommended to use a VPN on your Mi TV Stick device to remove all the geo-restrictions by connecting to Italian Server.
Our Recommended VPN – ExpressVPN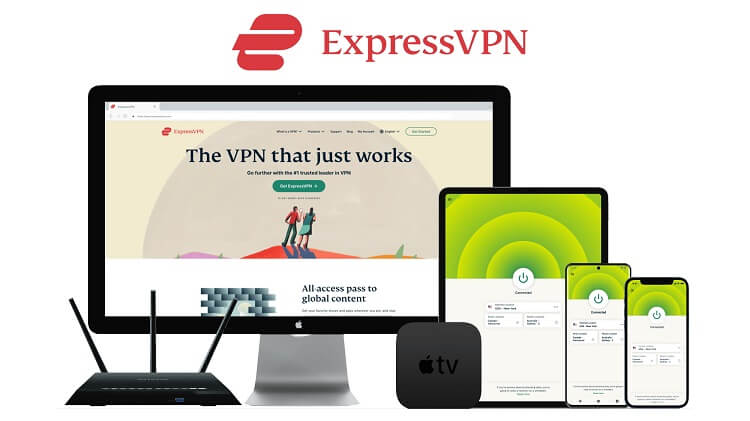 Warning: ExpressVPN is our main choice when it comes to unblocking geo-restricted content OR Streaming free content that is available on third-party APKs. It ensures that your online activities remain concealed from the Government and ISPs.
ExpressVPN offers 3 extra months for free along with a 30-day money-back guarantee. The VPN can work on five simultaneous devices with a single account.  
Watch Mediaset App On Mi TV Stick Using Puffin TV Browser
First, we will use the browser method to stream Mediaset Play on Mi TV Stick by using its official website. Here we are going to use the Puffin TV browser.
However, a strong VPN connection like ExpressVPN is a must because the app is only available in Italy. So, don't forget to install and use ExpressVPN on your Mi TV Stick.
Below are some of the steps that you have to follow:
Step 1: Open the homepage of your Mi TV Stick and then select Apps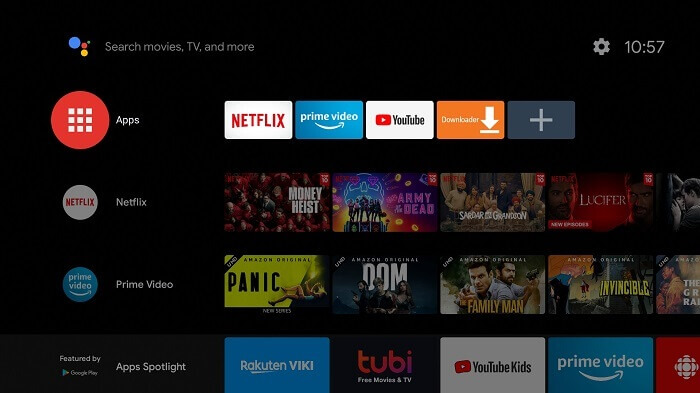 Step 2: Click open Get More Apps option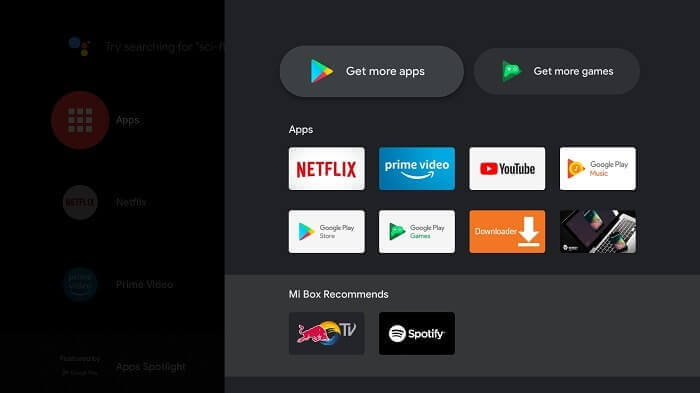 Step 3: Go to the Search icon on the top right corner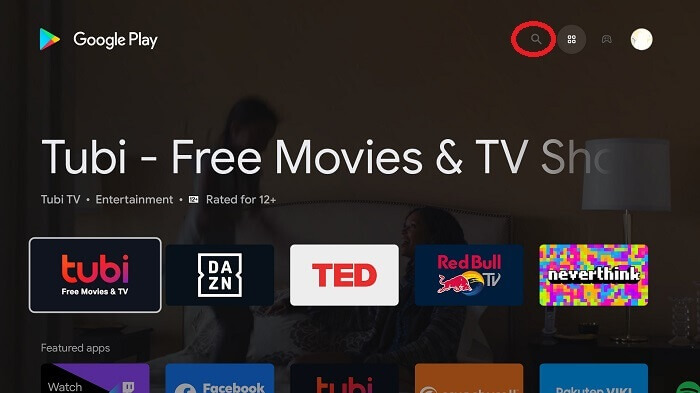 Step 4: Press the Search bar, put Puffin TV-Browser in the URL, and then click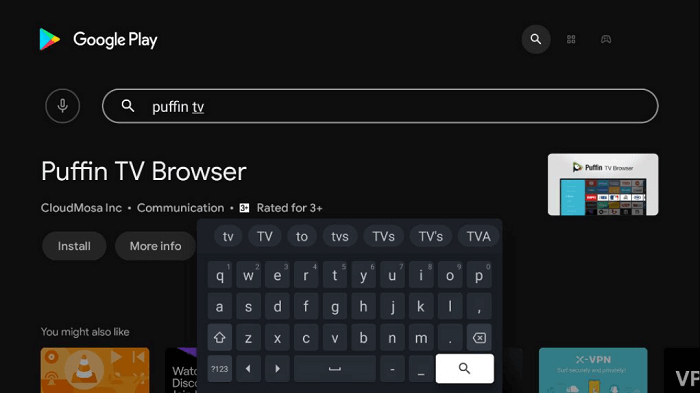 Step 5: Select the Install tab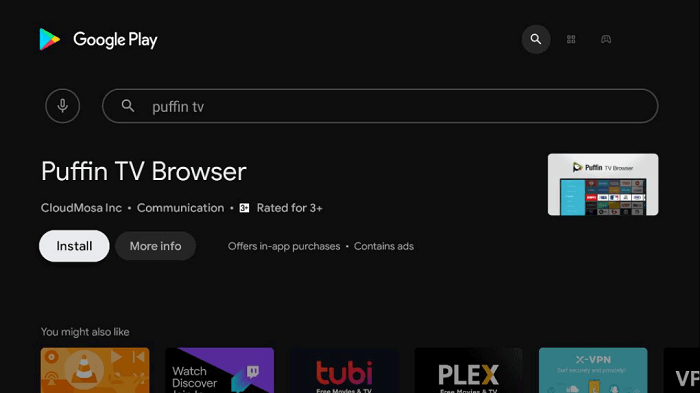 Step 6: Wait for some time as the browser fully installs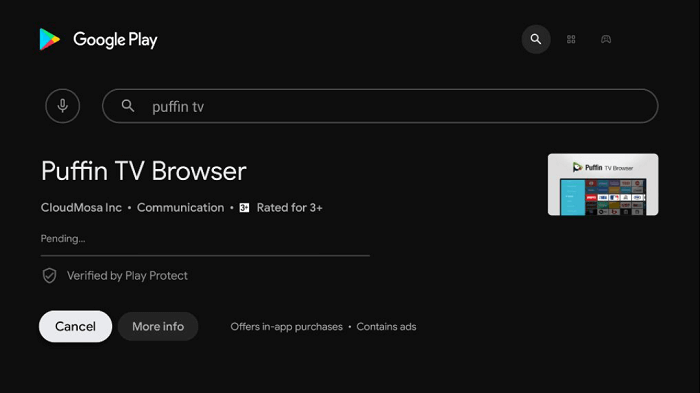 Step 7: Click Done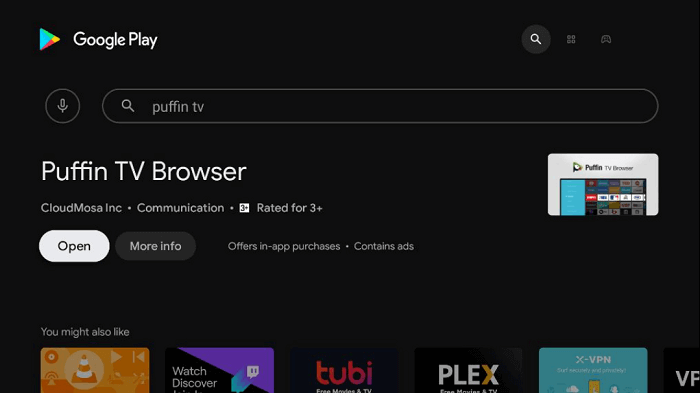 Step 8: Before streaming anything Open the ExpressVPN app and connect it to Italy Server to access the Mediaset Infinity Official website.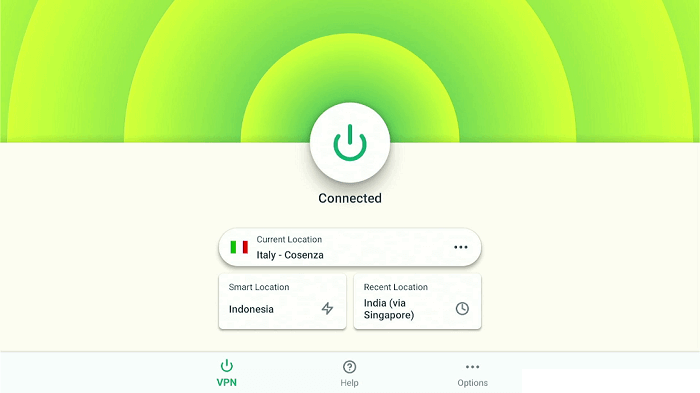 Step 9: The interface of the Puffin TV-Browser will open now. Go to its URL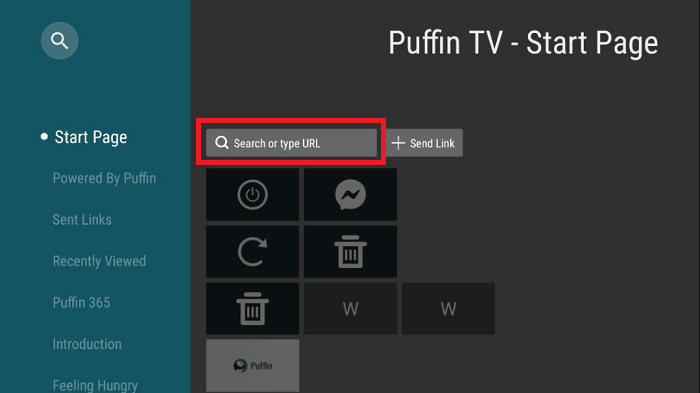 Step 10: Now put the URL https://mediasetinfinity.mediaset.it/ in the URL bar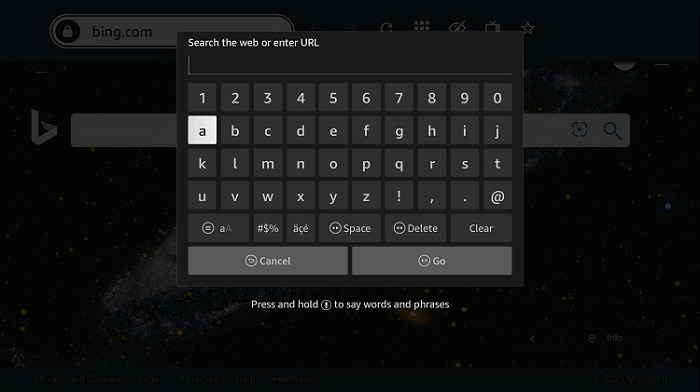 Step 11: The website will open. You can select any show that you like to watch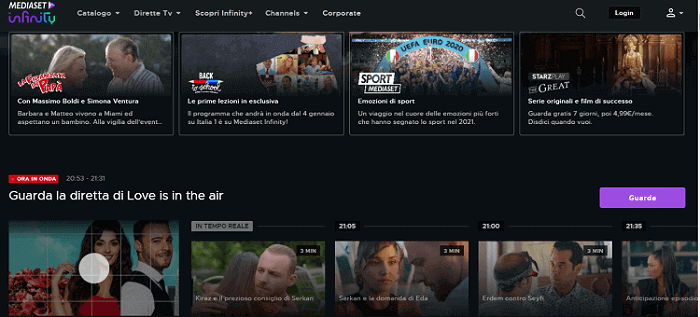 Step 12: Only the Cinema section requires login. Other content is easily available without any login or registration. The website interface is open now. Select Login 

Step 13: Choose Login with Facebook 

Step 14: Now press the Complete Registration option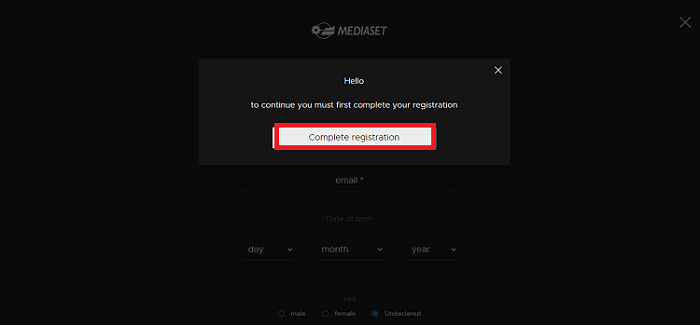 Step 15: Put all the required information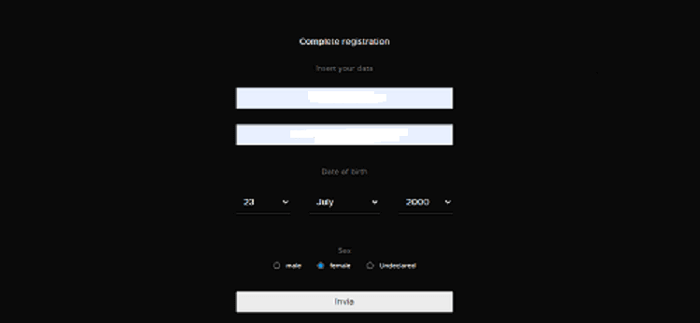 Step 16: Now press Invia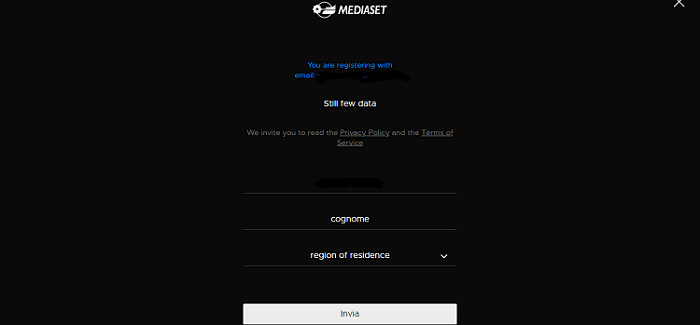 Step 17: Select what you want and hit Invia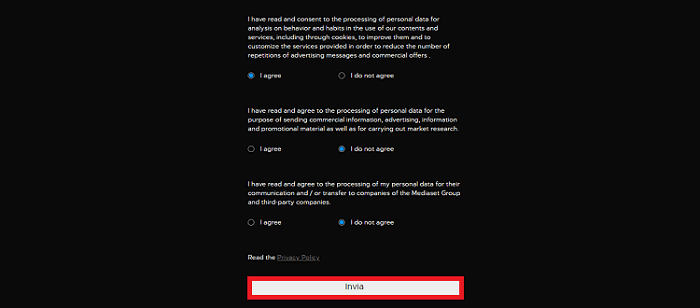 Step 18: After you receive an email, choose Attiva Account to verify your email address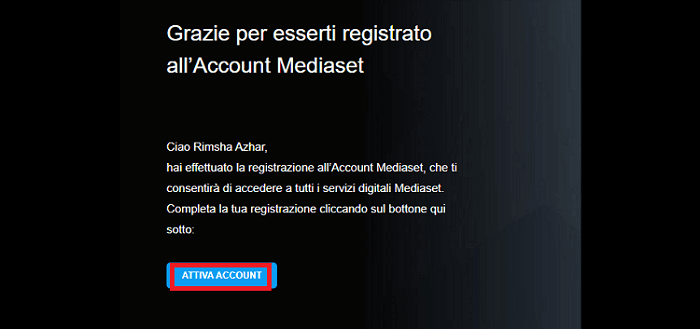 Step 19: Now press the Go to Homepage option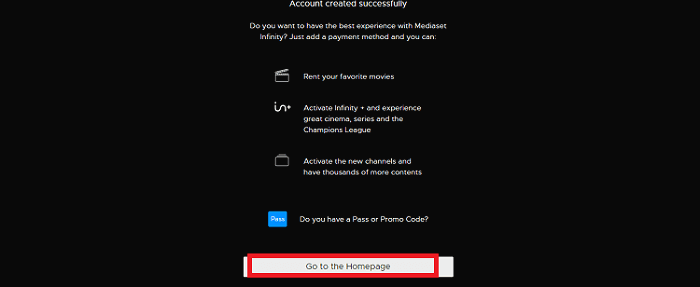 Step 20: Select any one of your favorite show

Step 21: Now start streaming 

Watch Mediaset Infinity On Mi TV Stick Using Downloader App
Users won't be able to find Mediaset Infinity on the App Store. Therefore, we always tell them to use the other method to sideload the app on their Mi TV Stick device through the downloader app.
But don't forget that this app is geo-restricted, so install and use ExpressVPN as it is necessary to unlock its content.
Follow these steps to know the whole process:
Step 1: From the Home Page of your Mi TV Stick device, press the Settings option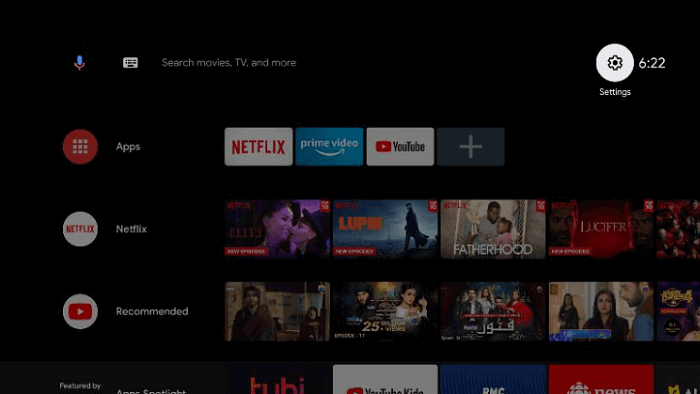 Step 2: Select Device Preferences now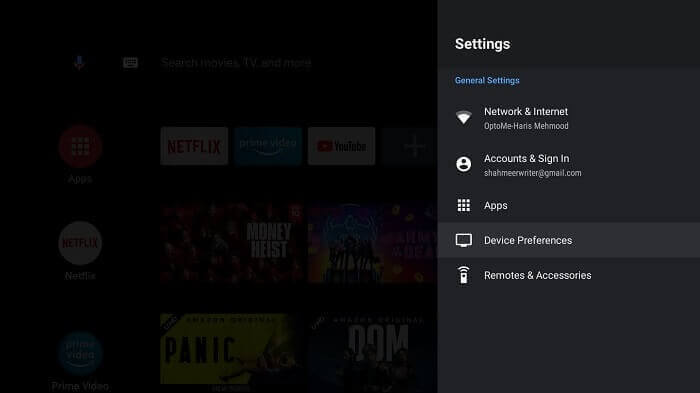 Step 3: Then move to Security and Restrictions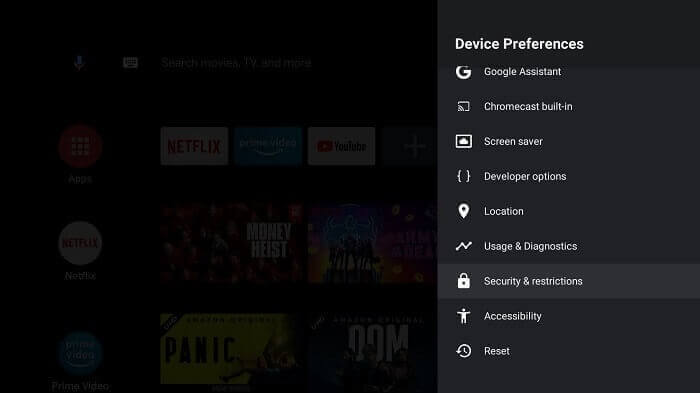 Step 4: Turn off your Verify Apps option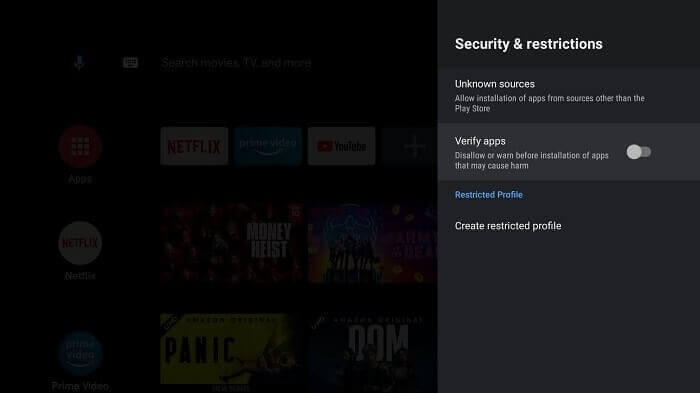 Step 5: Open the Mi Stick Home page once again and click on its Apps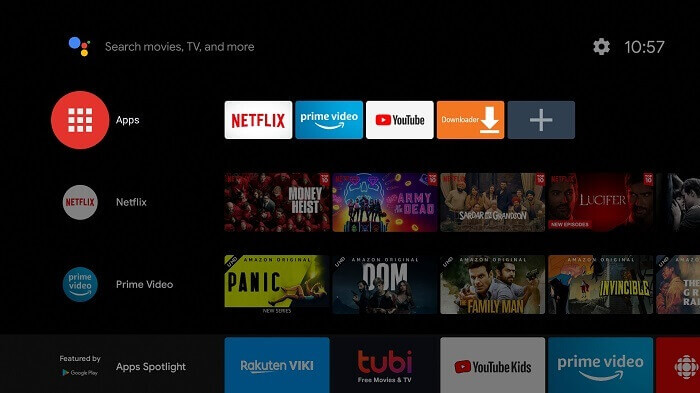 Step 6: Now click on Get More Apps   
Step 7: Click on the Search icon above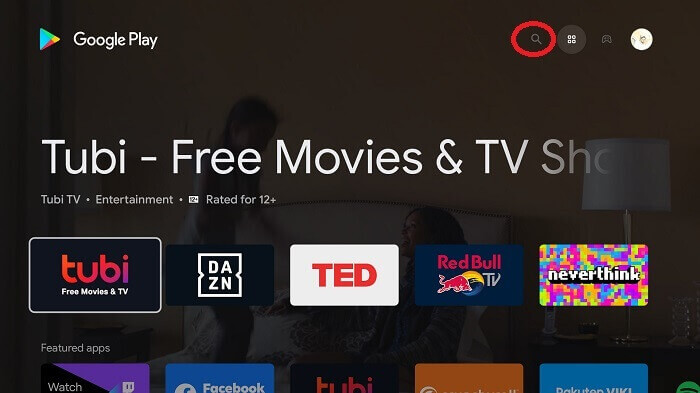 Step 8: Put Downloader in the Search bar and then press it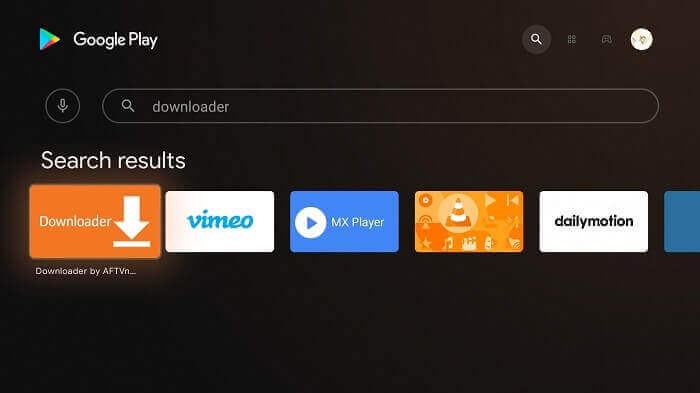 Step 9: Hit the Install tab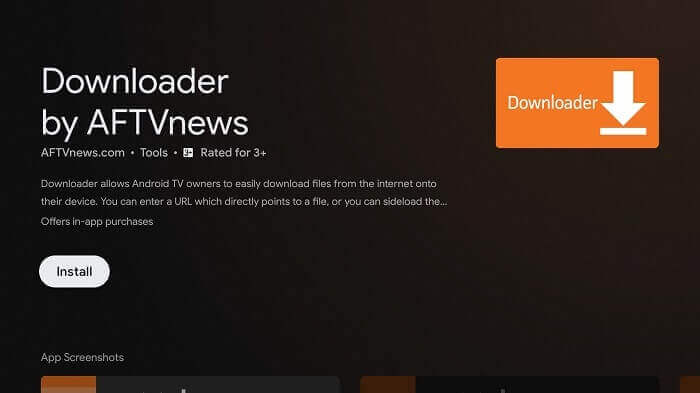 Step 10: Wait for the app to install fully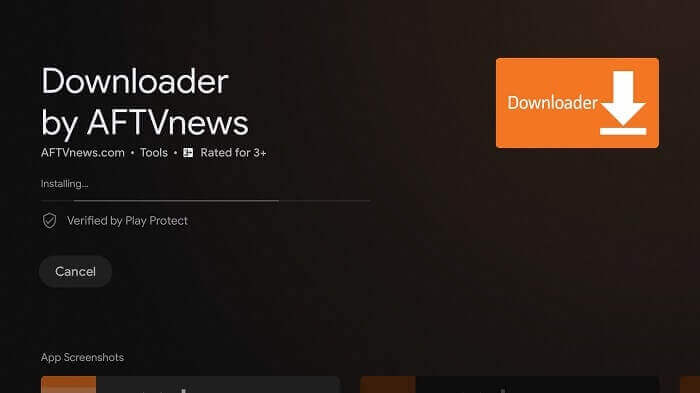 Step 11: Click Open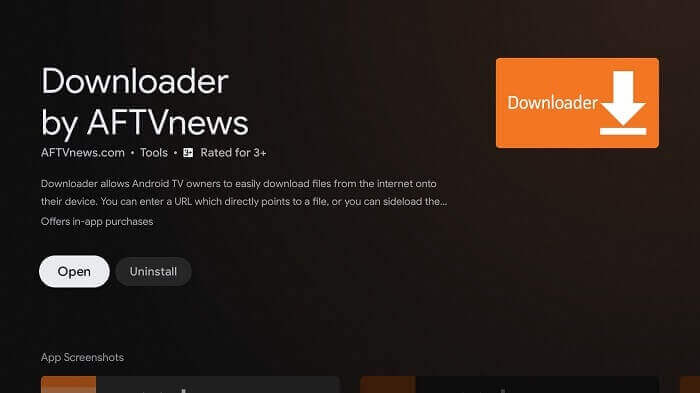 Step 12: Select Allow as the app completely installs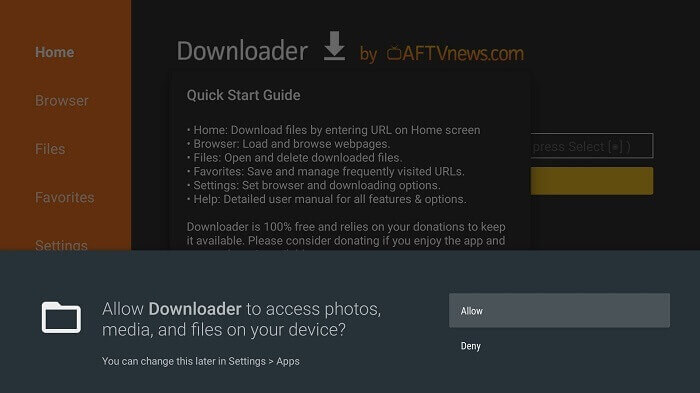 Step 13: Now click OK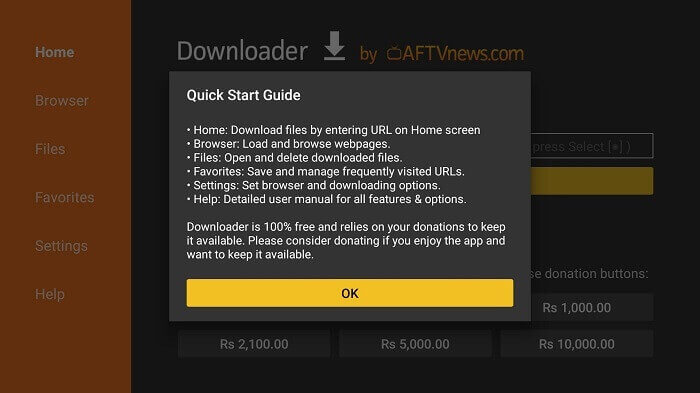 Step 14: Open the Settings bar to make the APK auto-install on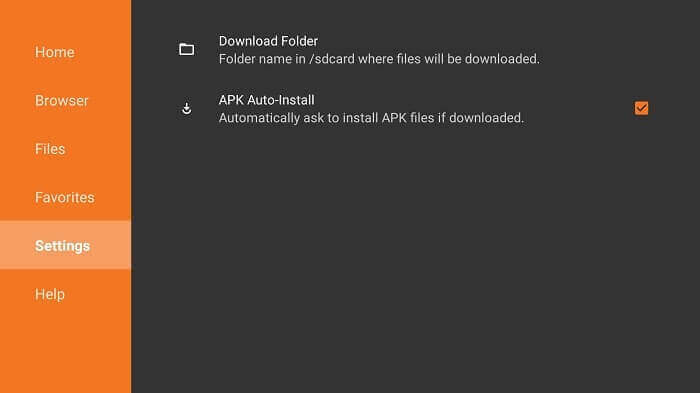 Step 15: Now move to the downloader app's homepage and choose its URL bar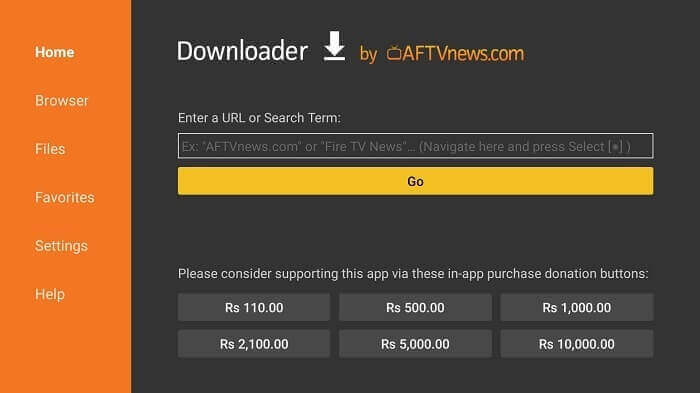 Step 16: Now type bit.ly/mediasetp887 in the URL bar and then hit GO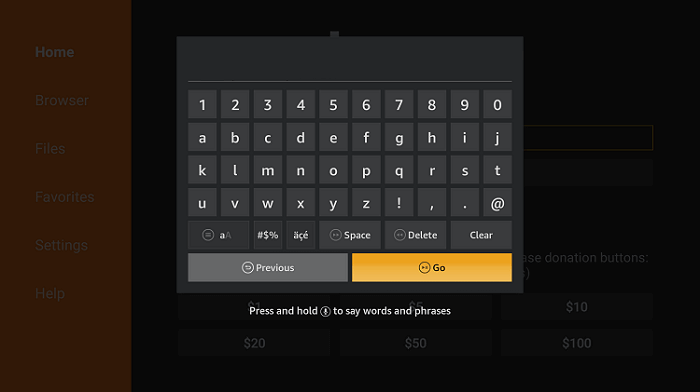 Step 17: Move down and press Download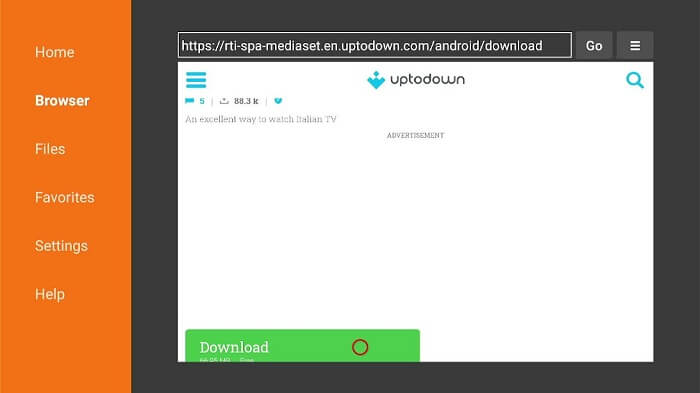 Step 18: Wait for the file to download fully. It can take time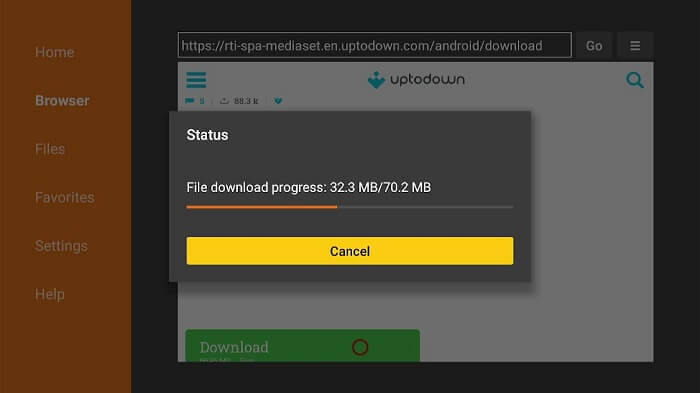 Step 19: When you click Install, this message appears. Click Settings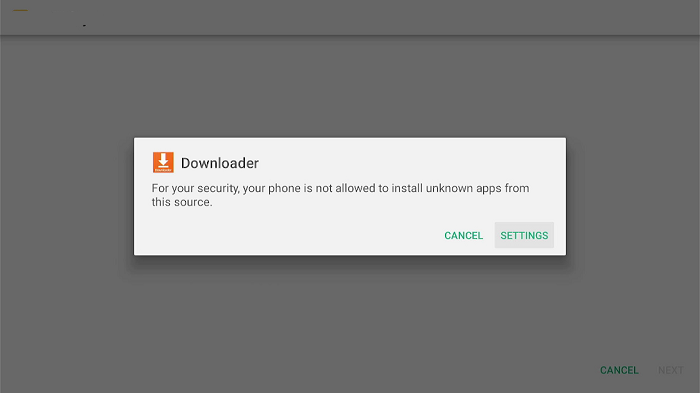 Step 20: The menu will open, click to allow the downloader app to install third-party apks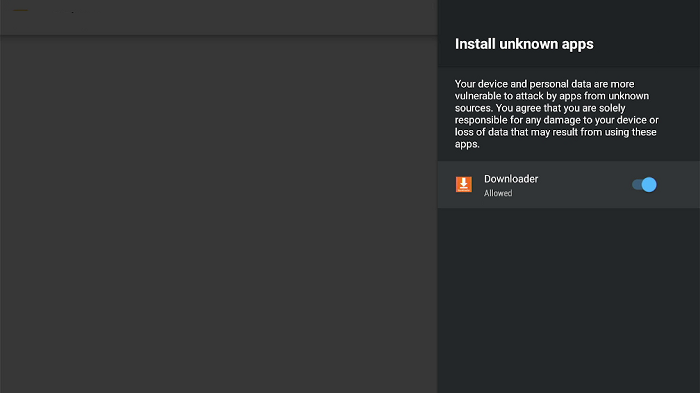 Step 21: Now click Install, and wait for a while until the installation process completes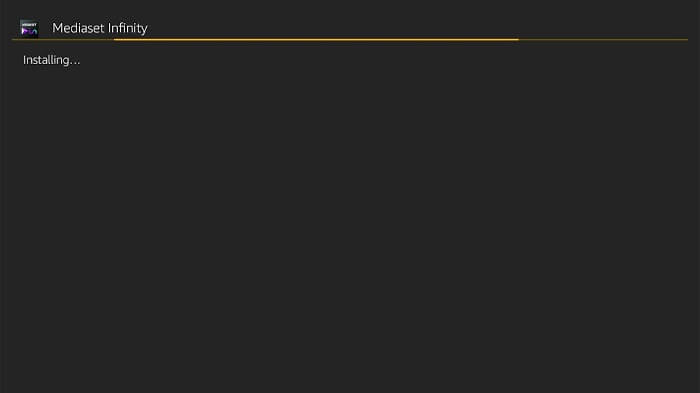 Step 22: Open ExpressVPN App and connect to Italy Server as Mediaset Infinity is only available in Italy.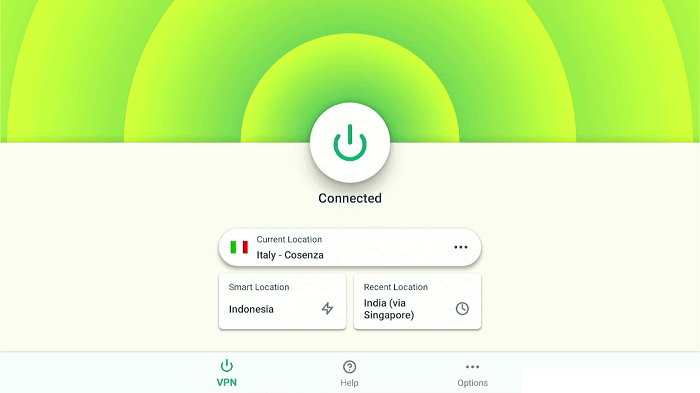 Step 23: Launch Mediaset Infinity App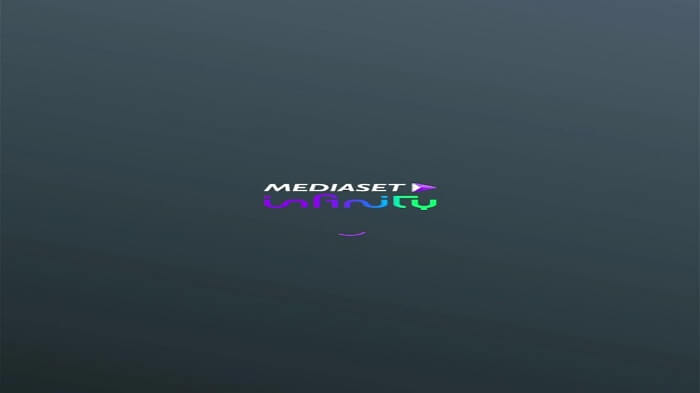 Step 24: Start your Mediaset Infinity streaming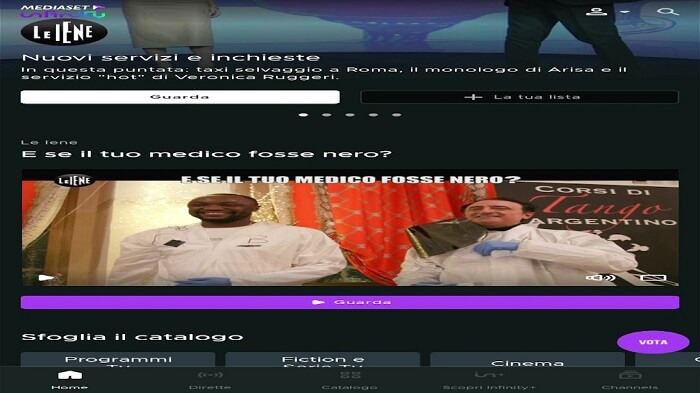 Popular Shows On Mediaset Infinity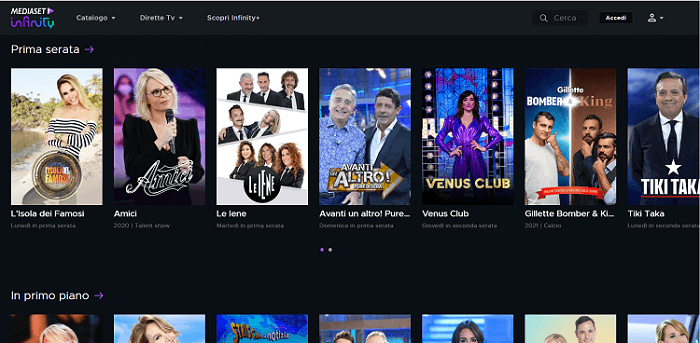 Mediaset Infinity offers unlimited entertainment content in the form of movies, TV series, sports, kids' content documentaries, and much more.
To learn more, you can have a look at the list of some of the most popular sports content, movies, and TV shows on Mediaset Infinity:
TV Shows
Grande Fratello VIP

Brooklyn Nine-Nine

Legacies 

Chicago Fire

Temptation Island 

The Vampire Diaries

Gogglebox

The Big Bang Theory

A SICILIAN STORY

48 Hours

Oltre La Soglia

Council of Dads

Bluff City law rated

L'Ora – Inchiostro contro piombo

The Cleaning Lady

Love is in the Air

Manifest

Brave and Beautiful

Day Dreamer

New Amsterdam

and many more.
Movies
Some of the hit movies that are available on Mediaset Infinity are given below. Have a look:
Un Natale al Sud

Wonder Woman

John Wick

Terminator Genisys

The Conjuring

IT

A Quiet Place

Detective Pikachu

Justice League

Skylines 
Sports 
UEFA Champions League 

Italian Cup (Soccer)

UEFA Nations League 

Formula E 

FIFA World Cup 2022 Qatar 

United Rugby Championship 
Mediaset Infinity Alternatives
Below we have mentioned some of the top Mediaset Infinity alternatives that also have international content. These apps are:
FAQs – Mediaset Infinity
Is the Mediaset Infinity app free to use?
The Mediaset Infinity app is free to use and streams the latest movies, drama seasons, sports, and much more for you.
Does Mediaset Infinity require any registration? 
Mediaset Infinity does not require any registration process. However, you will have to take the registration for the Mediaset Infinity Cinema section before using it. 
Is Mediaset Infinity available outside Italy?
Mediaset Infinity is only available inside Italy. Those living outside the country who want to stream Mediaset Infinity content can use a VPN connection like ExpressVPN on their Mi TV Stick. 
The VPN will easily surpass all the geo-restrictions so that users can stream it from anywhere worldwide.
Conclusion
The Mediaset Infinity streams popular movies, TV series, sports, and other videos for you but is only restricted to being used in Italy.
The app is unavailable on the official App Store, so we have discussed two different methods to watch Mediaset Infinity on Mi TV Stick in this guide. 
To stream it from a country other than Italy, you have to use a VPN like ExpressVPN to Bypass any geo-restrictions. The VPN will also keep you anonymous and safe from any security threats.